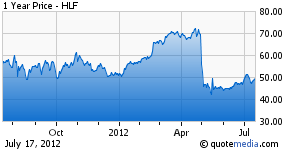 In my previous article on Herbalife (NYSE:HLF), I argued that the global network marketing firm was substantially undervalued due to the outrageous speculation that it might be a Ponzi scheme. My article almost immediately engaged both the bulls and the bears into a heated debate. From an investing perspective, the problem with the debate - for now - is that the bears have set their views so far in the extreme that the market is assuming the worst. The good news is that the bears probably won't be lingering much longer: Herbalife is releasing 2Q12 results on July 30, 2012. And if they were anything like recent performance - beating expectations by 8.6%, 17.8%, 14.5%, 17.3%, and 16.4% over the preceding four quarters - we can expect a positive market reaction.
To be sure, what we have at Herbalife is nothing new. The controversial association of multi-level marketing companies with Ponzi schemes has a very rich history. If you do a quick Google search for "multi-level marketing", a few results come up. The second one down bluntly inquires "what's wrong with multi-level marketing?" It goes on to highlight issues of morality, ethics, market saturation, and pyramidal schemes. The next three continue to circulate the connection. You get the picture. My point here is that regulatory agencies are familiar with MLM and have dismissed the idea that they are innately are illegal. The null hypothesis with the bears still remains: Herbalife is an MLM firm; therefore, it is a Ponzi scheme.
Investors are encouraged to think above the fear mongering and appreciate the thin line between being a value contrarian with reasonable forecasts to being a rugged speculator shooting arrows in the dark. At the end of 2011, Herbalife operated in 79 countries with a variety of regulatory procedures, including China, which has strong restrictions on direct selling yet makes up 6.1% of corporate net sales. In fact, in China, the company sells its products through retail stores and sales officers. The region was also one of four that exceeded 20% growth in the fourth quarter! Whether or not the FTC ever finds Herbalife guilty of orchestrating a $6B scheme may always remain a question, but how likely is it in the next 1 to 3 years?
As it stands currently, the Street and I are loving Herbalife. It is rated a "strong buy" according to FINVIZ.com and forecasted for steady, yet strong, growth. EPS is expected to hit $4.87 in 2014, roughly 48% above 2011 EPS. Distributor growth trends have been strong, and one of the only real risk that I see for the firm over the next 1-3 years is prescription drug competition in the weight loss market, which represented more than three-fifths of Herbalife's business in 2011. A second risk would be the price-conscious nature of consumers under high unemployment and gas prices. But, this second factor, is more obvious to the stock market at large and thus factored into the stock price already.
As a whole, Herbalife is expanding gross margins, increasing volumes, and penetrating the market. Again, as a direct seller, its peer companies have their own controversies. Avon Products (NYSE:AVP) has been litigated for international bribery on the legal front and lambasted for ineffective leadership on the shareholder front. Since the company rejected the $10B takeover bid from Coty Inc, value has fallen to nearly $3B below the offer.
In addition to poor managerial missteps, Avon remains under pressure for sustaining the 5.6% dividend yield, which puts the payout ratio above 100%. At a multiple of 18.2x and weak performance, management has little to run on other than its generous capital allocation policy. The company has desperately tried to cut costs, but investors will remain focused on how organic growth has decelerated. Going forward, management needs to focus on growth but this will be challenged by foreign exchange headwinds.
Market penetration is a key part of every direct seller's success story. And while Avon has historically focused on secular growth in new regions, it has begun to stray. Management needs to reduce high fixed overhead costs and reinvest the savings into new markets through promotional campaigns. This agenda makes Avon a strong turnaround investment.
With direct sellers under so much scandal, investors may naturally want to consider more traditional consumer goods plays. There is perhaps no safer consumer good investment out there than Procter & Gamble (NYSE:PG). This $179.1B giant provides a dividend yield of 3.4% and is 56% less volatile than the broader market. Perhaps for the same reason, the company doesn't provide that much of a discount to intrinsic value.
Procter & Gamble trades at a respective 20.4x and 16.7x past and forward earnings - both of which are higher than the S&P 500's PE multiple. ROA and ROI are in the single-digits and the company is worth almost triple book value with a low quick ratio of 0.6. Analysts expect only 7.3% annual EPS growth over the next 5 years.
Assuming that P&G can trade at 16x and meets consensus estimates, it will be worth $77.28 by 2016. Discounting backwards by 7% yields a present value of $55.10. Put differently, P&G is very expensive and mostly attractive for income stability. But if future growth cannot justify the current valuation, the dividend yield may not be enough - especially if tax hikes kick in - to compensate for a market correction. Accordingly, I recommend thinking like a contrarian and backing Herbalife, which has faster growth at a PEG ratio of 0.93, and Avon, which has strong potential as a turnaround opportunity.
Disclosure: I have no positions in any stocks mentioned, and no plans to initiate any positions within the next 72 hours.
Disclaimer: We seek IR business from all of the firms in our coverage, but research covered in this note is independent and for prospective clients. The distributor of this research report, Gould Partners, manages Takeover Analyst and is not a licensed investment adviser or broker dealer. Investors are cautioned to perform their own due diligence.