XHB is an exchange traded fund loaded with home builders and such housing related companies as Lowes (NYSE:LOW) and Home Depot (NYSE:HD). I believe that the home builders have generally seen their lows for the next year or so, even though a few builders may be vulnerable to bankruptcy. This makes the diversified ETF a safer vehicle.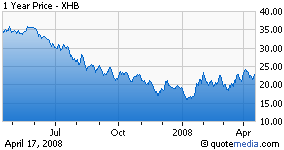 Using XHB as our ETF proxy for homebuilders, the index bottomed out early this year at 15.22. XHB now trades around $23. With market interest rates very low investors are looking for relatively safe returns on their investments that exceed 2 or 3 %. I like the idea of selling out of the money cash secured puts on XHB struck below the low of $ 15.
Currently the January 13 puts expiring in 276 days are trading around 1 dollar per contract. Because commissions vary widely I have used discount commissions in my calculations. Suppose we sell 10 puts on XHB representing a thousand shares. We would need to put up approximately 12,000 dollars which could be placed in an interest bearing instrument.
Generally two things can happen at expiration. You can be assigned on the puts because the XHB index has declined below 13 by expiration next January. Or you are not assigned and pocket the 1000 dollars you received for selling the puts. Using the CBOE strategy worksheet on CBOE.com we come up with the following return statistics.
If the put is assigned you now own 1000 shares at approximately $12 per share plus commissions. If you are not assigned you receive approximately $985 for a period return of 8.2% and an annualized return of 10.9%. The breakeven of $12 is about 47% below the current share price. You can adjust your risk return profile by changing the strike price of the puts you sell.
Disclosure: Coastal Management Group LLC is an investment Advisor and manages Hedge funds . We do have multiple positions in XHB and the listed options. Investors should read the Options Disclosure Document before engaging in this transaction.