Red Hat's (RHT) acquisition of FuseSource from parent company Progress Software (PRGS) should enable the company to more effectively provide integration of products and services for its enterprise customers. Craig Muzilla, vice president and general manager of middleware at Red Hat noted "Application integration software is one of the fastest growing segments of the enterprise software market." FuseSource offers open source integration and messaging products, service and subscriptions. FuseSource takes open source projects and delivers products specifically developed for its customers. FuseShource gives Red Hat another arrow in its arsenal when approaching customers.
In Red Hat's Q1 2013 earnings call held on June 20, 2012, the company considers the turmoil in Europe as an opportunity, as customers look to move to open source solutions in order to reduce costs. The company noted it has demonstrated the capability to perform in up and down business cycles. As an example, the company's EMEA business grew over 20% in Q1 of 2013, even with the turmoil in Europe.
Red Hat's global revenue distribution was reported as 55% Americas, 25% EMEA and 20% Asia Pacific. The company reported quarterly revenue of $315 million which represented growth of 21% year-over-year and 6% sequentially. Subscription revenue was up 21% year-over-year and 7% sequentially and represented 87% of total revenue. Of the top 25 deals that were up for renewal during the quarter, all 25 renewed and at 120% of original value. The company reported solid demand in all major geographies and continues to gain market share as customers move to open source solutions. Red Hat reported one of the larger deals as a Microsoft (MSFT) Windows to RHEL migration for a European financial services customer with global operations.
Red Hat's revenue outlook for Q2 of 2013 was estimated at $320 million to $322 million.
The company's stock price is up significantly for the year, near its 200 day moving average and near its lower Bollinger band as shown below: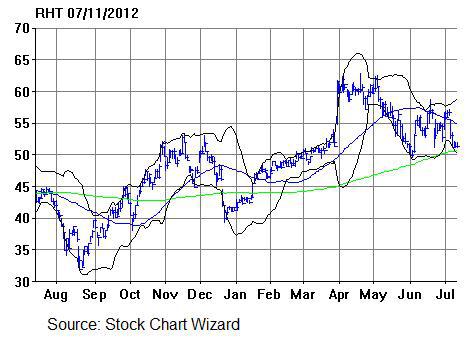 With Red Hat's earnings release in the rear-view mirror, the company's ability to perform in up or down business cycles and opportunity in Europe, consideration is given for entering a bull-put credit spread for the company. A bull-put credit spread may be entered for a net credit by selling one put option and purchasing a further out-of-the-money put option. The goal of the trade is for the options to expire out-of-the-money with the investor retaining the initial net credit as profit.
Using PowerOptions tools, a bull-put credit spread was found for Red Hat with a potential return of 10.6% (102% annualized) as shown below:

The specific put option to sell is the 2012 August 45 at $0.68 and the put option to purchase is the 2012 August 40 at $0.20.
Trade
Sell RHT 2012 August 45 Put at $0.68
Buy RHT 2012 August 40 Put at $0.20
A profit/loss graph for one contract of the Red Hat bull-put credit spread is shown below: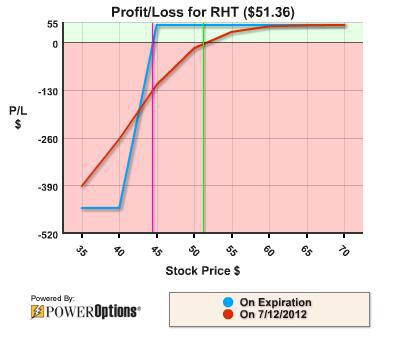 For a stock price at options expiration in August of 2012 greater than the $45 strike for the short put option, the position will be fully profitable, realizing a return of 10.6%. For a stock price at option expiration below the $40 strike price of the long put option, the position will experience a total loss, minus the initial net credit. However, the position should be managed prior to experiencing a total loss.
A management point of $47 is set for the position. If the price of Red Hat's Stock drops below $47, the position should be analyzed for management with regard to an exit or a roll.
Disclosure: I have no positions in any stocks mentioned, and no plans to initiate any positions within the next 72 hours.