Abbott (ABT), a diversified maker of drugs, nutritional products, vascular products and diagnostic products, is a buy for the analysts at Morningstar.com (5 stars), Standard & Poor's (4 stars), Reuters (outperform) and buyers of ABT January 2010 60 calls, which indicate the $50.78 stock will touch $64 before the options expire. But Credit Suisse (neutral), Rochdale Securities (hold-weak buy), Sabrient Systems (hold) and buyers of bearish ABT January 2010 50 puts, which suggest the stock could touch $44 before the puts expire, aren't so optimistic. And the technicals are all weak, with bearish point and figure charts pointing to $46. Click on ABT's daily chart to see its point and figure chart.
Fair value estimates range from a low of $45 by Rochdale to $63 by Morningstar and S&P. The analysts who cover the stock give it a weak buy rating of 2.54 on a scale of 1 to 5, according to Jaywalk.
On April 16, Abbott announced that in the first quarter, its diluted earnings per share rose 33.3% on a 13.8% increase in sales, of which 5.5% reflected the benefits of the weak dollar. The company's news release is full of facts and figures and includes a Q & A section that anticipated many questions analysts ABT expected or wanted securities analyst to ask during their conference call. "Abbott started 2008 with a strong first quarter, following double-digit sales and earnings growth last year," Miles D. White, Abbott's chairman and chief executive officer, said in a statement. "In addition, we received five key new product approvals during the quarter. The continued productivity of our late-stage pipeline, combined with the underlying strength of our broad mix of businesses, gives us a high level of confidence in our future growth outlook," he said.
Based on the news release and conference call, the stock looks like a buy, because the company is anticipating a good year regardless of what happens to the economy. S&P says it expects ABT's EPS will rise at a 15% annual rate over the next three years. Over the last three years, the earnings per share have grown at an annual rate of 7.38% on an average growth in sales of 11.11%. ABT's return on assets, according to Reuters, is 9.5% while its return on investment was 13.2% and its return on equity was 22.7%. Rochdale says that ABT's 12.9% return on capital versus a 6.3% cost of capital was good. ABT pays a 2.8% dividend. But a careful reading of analysts' reports, valuation ratios and historic financials reveals several uncertainties about ABT. In short, even though ABT's executives sounded bullish on their conference call, analysts are warning investors that it has a relatively weak new product pipeline, may not achieve all of its sales goals and has a relatively high total debt to equity ratio of 68.7%, compared with 38.4% for the drug industry and 76.2% for the S&P 500.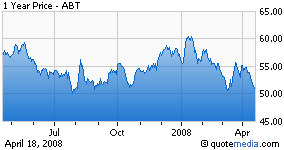 ABT's long-term debt to equity is 53.4%, compared with 30.2% for the industry and 64.3% for the S&P 500, according to Reuters. As a result of making some sizable acquisitions, ABT's long term debt at the end of 2007 was $9.5 billion, or more than double the $4.6 billion it had on its books at the end of 2005. And, as S&P warns, the pharmaceutical industry is facing the uncertainty of the presidential elections.
In Wednesday night's debate, Sen. Clinton again promised to take the profits of oil, drug and insurance companies and spend them on various government programs, including universal health care. Sen. Obama could be expected to fulfill that promise if he were elected with a Congress controlled by the Democrats. Also, S&P notes, Medicare Part D drug sales are flat, currencies are volatile and most drug companies have relatively weak new product pipelines. Close competitors include JNJ, PFE, BAX and GSX.
Also, Reuters is projecting that ABT's PE ratios, which have been compressing for three years, will continue to shrink to 16 in 2008 and 14 in 2009 from an average of 24 in 2007 and 19 in 2005.
As GE and MSFT have shown, great earnings reports aren't always rewarded by the markets. Both companies have seen their lofty PE ratios compressed to reflect their actual growth rates over the last five years or so. And that PE compression seems to be happening to ABT, too. Investor's Business Daily (investors.com) gives ABT a weak composite rating of 56, or a C-. IBD gives ABT's EPS growth rate a 75 ranking, which is pretty good. But at least one other research firm ranks ABT's earnings growth as sub par. Different models produce different caluclations. IBD gives ABT's relative strength a weak 50 ranking, its group's relative strength a B, its sales + profit margins + return on equity an A and its accumulation/distribution a B-, which means some institutions are buying the stock.
Covered call traders seem to think the ABT May 52.50 calls are relatively safe, pricing the calls to provide an annualized yield of 23%. Trading covered calls can be very risky, and trading covered calls on a weak stock is a bad idea. Covered call traders buy a stock and sell an equal number of call options on that stock. Traders of ABT leaps that expire in January 2010 are moderately bullish on the stock, because the implied volatility on the options is 26.72 compared with a historical volatility of 22.57. This means they're a bit expensive. ABT's implied volatility over the last 52 weeks has been as high as 33.35 and as low as 18.92 while its historical volatility high was 34.48 and its low was 14.38.
As of this writing, the stock is down 8% year to date and down 13% from its 52-weeks high. Given ABT's mixed fundamentals and weak technicals, it would be wise to wait until the technicals turn bullish before buying the stock. It's on sale and the sale appears likely to get better in at least the near term. The company's key statistics are here.
Disclosure: I don't own ABT or any of the stocks mentioned in this article.