In an age of apps it's tough to be an applications company.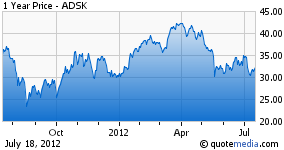 Autodesk's (ADSK) $60 million purchase of Socialcam is being called a "meatball sundae" and there's something to that. Socialcam is a Facebook app, which seems to have little in common with the Computer Aided Design or CAD software the company is noted for.
Autodesk management says it bought Socialcam for its platform, which it believes can become a channel for its professional video tools.
The price is sofa cushion money for a company that has more than $1 billion in cash. What's far more important is Autodesk's credibility, defending a PE of 25 in a world where many leaders are now selling for half that.
Socialcam competes in the social video app space with Viddy, a product that a slicker interface that limits videos to 15 seconds. It was founded by Michael Seibel, who told PandoDaily he was happy to sell out for three times what his investors had put in, saying there will be "Instagram for video" and that the winner in this area will be the company that can draw deeper engagement from a limited number of users.
Seibel is best known as the founder of Justin.Tv, and originally created Socialcam as a spin-off to that product. He seems unlikely to be staying at the company, but he would be a great "get" for Autodesk, whose top management is aging. CEO Carl Bass is 54 and an Autodesk lifer while Seibel, who is not yet 30, seems more hip to what's new.
Building a network of smaller, trusted entrepreneurs like Seibel seems to be Autodesk's best bet for continuing growth. Joseph Flaherty of Wired notes there are many other small companies Autodesk could go after next, many of them closer to its original niche.
The question is whether Bass and his team can make the right choices and spend judiciously to grow what they buy. Until they bring someone like Seibel on-board that will remain a question.
Disclosure: I have no positions in any stocks mentioned, and no plans to initiate any positions within the next 72 hours.