Earlier, we analyzed Goldman Sachs in detail, concluding that the company had lost its competitive advantage and was not so golden anymore. Our views were confirmed on Tuesday, July 17, when GS released its Q2 2012 results. The results pushed analysts to say that Goldman Sachs' golden egg has turned dull. Although the results were better than expected, they were below GS' prior quarter performance, which is why the stock price remained unchanged. Agreeing with our views, chairman of Boston-based Thunderstorm Capital, John Dorfman, said, "Goldman is clearly going through a tough time."
Going forward, we believe the bank will witness a further decline in its earnings due to added pressure from the sluggish U.S. economy and the Fed's efforts to decrease interest rates. Therefore, we reiterate our sell rating for the bank.
The table below illustrates how the bank's top and bottom lines exceeded expectations.

The bank's turnover beat expectations of $6.25 billion to reach $6.6 billion, up by 5.5%, while its earnings per share of $1.78 surpassed expectations by a material 51%.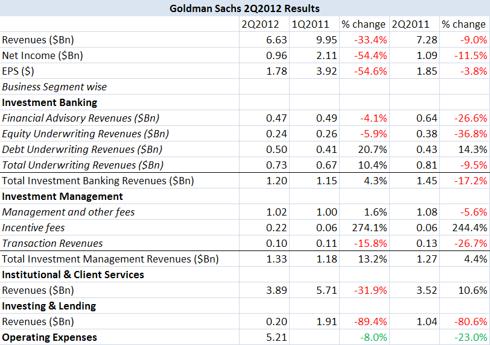 Click to enlarge
Overall Results
The results, compared with previous quarters, told a different story. The bank generated revenues of $6.6 billion, one-third of what was generated in the prior quarter and 9% below the previous year. A major drop in revenues was witnessed in the bank's Lending and Investing and Institutional and Client Services business segments. The decline in the bank's revenues from Equity Trading and the gain in FICC Trading and Investment Banking were less steep than its peers JPMorgan (NYSE:JPM) and Citigroup (NYSE:C). This is why the bank was able to maintain its leadership in Investment Banking. Earnings per share fell by over 50% to reach $1.78, down from $3.92 in the first quarter of the current year. They were 4% below the earnings per share for Q2 2011.
Investment Banking
Revenues of $1.2 billion from Investment Banking deteriorated 17% compared to the prior year, reflecting a decline in industry-wide merger and acquisition activity. They were still 4% above the revenues from the prior quarter. Increased volatility and decreased global equity prices led to a 6% equity underwriting revenues decline from the prior quarter. Revenues of $240 million from equity underwriting were 37% below the prior year. Revenues from debt underwriting enhanced owing to higher revenues from investment grade and commercial mortgage-related activity. The 500mn revenues from debt underwriting were up by 21% compared to the prior quarter, and 14% from the previous year.
Investment Management
Revenues of $1.33 billion accruing from the bank's Investment Management Division surged by 13% and 4.4% compared to $1.18 billion in the prior quarter and $1.27 billion in the prior year. The surge was witnessed largely due to a significant increase in incentive fees, partially offset by plunging transaction revenues.
Institutional and Client Services
The top line of $3.89 billion for Institutional and Client Services dropped by 32% from the prior quarter. However, it was still 11% above what it generated in the last quarter. Driven by higher revenues in mortgage and commodities, despite difficult market conditions, the bank generated net revenues of $2.19 billion from Fixed Income, Currency and Commodity Client Execution. Equity markets are currently characterized by weak activity. Revenues from Equities remained at $1.7 billion, reflecting lower revenues in equity client execution and derivatives.
Investing and Lending
Weak equity markets and wide credit spreads led to lower investing and lending revenues for the second quarter. A loss of $194 milion from investments in the ordinary shares of Industrial and Commercial Bank of China Limited is also part of the reason for the lower Investing and Lending revenues.
Cost Cutting Initiatives
In another report, we concluded that GS' new resolve to cut costs by shedding its workforce would play an important role, if the resolve were to continue. The bank, in line with our views, extended the cost cutting program and announced that instead of the proposed annual cost saving of $1.4 billion, it now aims to save $1.9 billion through these initiatives. It plans to cut senior positions and hire more junior employees. This will result in less personnel expenses. Operating expenses of $5.21 billion are already down by 8% from the prior quarter, while they are 23% down from the previous year.
Conclusion
We believe that the bank will experience difficulty in the future, which is why we are reiterating our sell rating on the stock. We believe that in the wake of improving U.S. housing markets, Wells Fargo (NYSE:WFC) remains the best play in the U.S. financials.
Disclosure: I have no positions in any stocks mentioned, and no plans to initiate any positions within the next 72 hours.