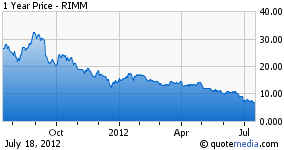 There is no dearth of news articles and op-eds that continue to dismiss Research in Motion (RIMM) as a dead company that needs to be eulogized every hour of every day. While that is probably true, and the end of the company may not be too far away, there are certain things that RIM can still do in order to protect the interests of its investors. This includes selling the company and its properties as soon as possible, something that is unpalatable to those who run the company. BlackBerry's corporate security services, BlackBerry Messenger (BBM) and its native email application need to be opened up for Google's (GOOG) Android OS, Apple's (AAPL) iOS, and Microsoft's (MSFT) Windows Phone 7 and 8 devices.
If RIM decides to open these 3 important applications to the dominant operation systems, for a fee of course, it could manage to recover some money. Moreover, it may give the company some time to breathe and think about its next moves. Of the three applications that I just mentioned, I am particularly interested in BlackBerry Messenger (BBM), as it is a solution that is desperately needed by iPhone and Android phone users. The closest that could come to BBM on other platforms is Whatsapp, which works just fine. While I say that it works "just fine", it does lack many social features- a personal profile, and certain file sharing options, that BBM comes with.
Whatsapp is certainly better than text messaging, or the stripped down and minimalist iMessage, which can only be used by iPhone users. Whatsapp, on the other hand, can be used by those who use almost every smartphone that is available today, including Windows Phone, iPhones, devices running on the Android and even Nokia's devices. This makes Whatsapp a very stable messenger. It is already very popular among those who text heavily. Nonetheless, it lacks most features that BBM offers.
Another option that iPhone and Android users have is Viber. Viber not only lets people make voice calls over 3G and Wifi, but also lets people text each other. It is also possible to share images using Viber, but I hardly know anyone who uses Viber to text message, It is mostly used for voice calls, while Tango is used as a Skype substitute for making video calls. The point that I am trying to drive home is that BBM virtually has no competitors on either iOS or Android devices. If BBM is made available to other platforms, users will not hesitate to pay any amount that RIM might quote. In fact, many Apple insiders have noted that Apple would love to have a BBM app in its App Store. If only RIM's Thorsten Heins decided to take action instead of allaying investors' fears with empty words, things would begin to look brighter for RIM, investors and analysts.
If RIM decides to open BBM to Android, iOS and Windows Mobile, it can expect heavy revenues not only from the three rivals, but also by charging a fee for BBM. It could charge $4.99 or something similar to that for each download, and even with a price tag like that, people will download it instantaneously. That is because most people still use a BlackBerry solely because of BBM. Alot of people who presently use other smartphones once considered buying a BlackBerry because of BBM. If BBM is made available on other devices, RIM will gain a lot of revenue, which is desperately required at the moment to keep itself floating for a few months.
Of course, apart from opening up BBM to other operating systems, RIM must sell its handset business to Microsoft, Facebook (FB) or Amazon (NASDAQ:AMZN). By opening BBM to other operating systems, RIM will be able to assert its position, rather than succumb to negative analysis that is being written every minute all over the Internet. I firmly believe that if RIM announces that it plans to open up its BBM software to other devices, the stock will surely increase by at least a small margin. That is probably the moment when many investors would want to sell their shares, while the ones who remain will eventually gain from the next company that will manage RIM's properties.
The idea that Microsoft would buy RIM in its entirety seems a little too farfetched. First of all, Microsoft's venture with Nokia (NOK) did not work well and the companies have admitted that themselves. Microsoft may not be in a position to purchase RIM and turn it into a profitable business. We must remember that Apple will soon launch its iPhone 5 and newer versions of Android OS are always around the corner.
With that in mind, we may speculate that Facebook may try to purchase RIM in its entirety just like it bought Instagram on a whim. However, Facebook too did not have a good start at NASDAQ and will decide to be careful when it comes to making impulse purchases. Amazon might be the only company that would be interested in purchasing all of RIM's properties and breathing new life into it. However, that too does not sound like a likely possibility.
What certainly seems like a possibility is cutting RIM's functions into several parts, including BlackBerry Messenger, BB10 licensing business, Security features and hardware units. Hardware units can be sold to Amazon while BB10 can be sold to whoever is still interested in an alternative operating system that could stand iOS' and Android's competition. BBM can be sold as an application after developing different versions for each platform, and that is probably where the real money lies. Security features can also be sold as an application to corporations who are eager for extra protection that RIM offers.
With an operating margin of 14 and a profit margin of -0.30%, RIM investors have a lot to worry about. What is still positive is that the company has no debts and has a little more than $2 billion in hand along with several patents. RIM also claimed that it has a positive cash flow of $710 million, which is only partly true. A goodwill impairment charge of $335 million needs to be subtracted from this amount and so must $153 million in capital expenditures. It leaves us with just $223 million, which again isn't very bad. What really is bad is that the company may burn almost $1 billion on its BB10 phones, which probably not many would buy. From what I see, the company's strength lies in its position of not having any debt and several patents lying in its kitty. If RIM makes haste and sells its BBM software to other companies like Apple and Android-based cellphone makers, I do see a glimmer of hope in the coming months. If RIM takes this approach, investors may heave a sigh of relief that all is not going to be dark and dismal. If only Heins listened!
Disclosure: I have no positions in any stocks mentioned, and no plans to initiate any positions within the next 72 hours.