Value… is not quite enough. Buying low is a start…..but you need the patience, discipline and grit to buy lower and still lower if the opportunity presents itself, shutting out the extraneous noise coming from within the market and over the airwaves. - Seth Klarman
This quote epitomizes our opinion on the financial sector and Citigroup (NYSE:C) in particular, which we profiled in an earlier post. The giant bank offers an enormous stream of future income and dividends at a paltry price. No spreadsheets are needed to understand the huge gap between stock price and intrinsic value as one could perform the math on the back of a napkin. Citigroup's stock is trading around $27.00 per share, while the company's book value and tangible book value per share have increased 4% and 6% year-over-year to $62.61 and $51.81 respectively. Citigroup had some very bad legacy assets that were segregated as Citi-Holdings, which now only represents 10% of total assets, down 28% from the prior year. This albatross has lost many billions including another $920MM in the 2nd quarter of 2012. The core ongoing operations are Citicorp where net income increased 6% year-over-year to $4.3 billion in the recent quarter. While Citigroup's return on tangible book value over the 1st half of 2012 was a lackluster 8.2%, Citicorp's return on tangible book over the same period was 14.7%. Assuming a 15% return on Citigroup's current tangible book value of $51.81 normalized earnings would be $7.77 per share, meaning at the current valuation Citigroup is trading at 3.5 times normalized earnings.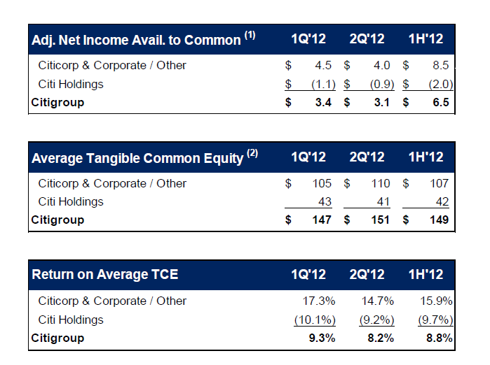 Click to enlarge
On July 16th, 2012, Citigroup reported net income of $2.9 billion or $0.95 cents a share; $3.1 billion excluding CVA/DVA and the loss of its sale of 10.1% of Akbank. Despite a difficult macroeconomic backdrop Citigroup's first-half earnings were $6.5 billion and an even more impressive $8.5 billion for Citicorp. Citigroup loans of $527 billion grew 10% year-over-year, while Citi-holdings loans of $128 billion declined 24% from the prior year. Nearly all credit metrics continue to improve from already solid levels enabling the company to release another $984MM of loan loss reserves, down 50% from the prior-year period. While some say that loan loss reserves are "low quality earnings" I don't seem to recall the same people calling the provisions for loan losses as "low quality losses" when they were incurred, and in the convoluted language of financial accounting, earnings are earnings. Total allowance for loan losses was still a very healthy $27.6 billion or 4.3% at quarter-end, compared with $34.4 billion or 5.4% in the prior period. While net interest margins have compressed across most of the financial sector and Citigroup is no exception, deposits growth of 6% year over year to $914 billion somewhat softens the blow.
Securities and banking were down 2% (excluding CVA/DVA) offset by a 5% increase in transaction revenue, which reached a record in the quarter. Global consumer banking revenue was unchanged year over year. Operating expenses of $12.1 billion were 6% lower than the prior period, and Citigroup's cost of credit was down 17% year over year reflecting a $1.6 billion improvement in net credit losses, which was partially offset by a $1 billion reduction in net loan loss reserve releases. The bank's asset quality continued to improve as total non-accrual assets fell 22% to $11.5 billion compared with the second quarter 2011. Corporate non-accrual loans fell 47% to $2.6 billion and consumer non-accrual loans fell 1% to $8.3 billion.
Citigroup continues to boast some of the highest capital ratios in the industry. The Tier 1 Capital Ratio was 14.4%, Basel I Tier 1 Common Ratio was 12.7%, and the Basel III Tier 1 Common Ratio was projected at 7.9%. Boosted by retained earnings it would be very wise for Vikram Pandit, the CEO of Citigroup, to go back to the Federal Reserve for approval on a stock buyback, and/or dividend increase. A stock buyback would be the vastly superior option with the stock trading at far less than 50% of intrinsic value. A strengthening U.S. dollar was a slight problem as FX losses hurt the top and bottom lines, but long-term budget and trade deficits combined with unfeasible entitlement programs make any gains in the U.S. dollar a short-term issue.
Citigroup's earnings will continue to improve due to the continued reduction in legacy costs related to Citi-Holdings, solid loan growth at Citicorp, and improved operating leverage from expense reductions. Citigroup's exposure to Europe has been vastly overblown as seen by the table below: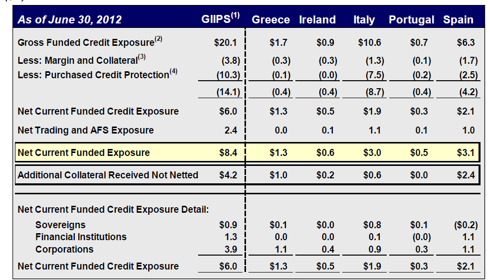 Click to enlarge
While the stock has performed horribly over the last year, business performance has been much better.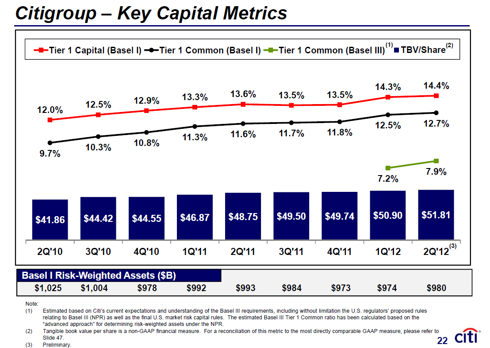 Click to enlarge
All of the capital ratios and book value metrics have continuously improved. The ultimate catalyst for Citigroup becoming a potential multi-bag investment will be stock buybacks, a continued reduction in legacy costs highlighting the strong prospects for Citicorp, and eventually improving net interest margins will highlight that Citigroup's core earnings power is well above $20 billion. Citigroup has been a challenging investment as the stock has gotten cheaper while the improved business health, and potential for improvement in a consolidated industry has become much more obvious. We'll continue to add more until our investment thesis is disproved and over the measure of time we will see how things shake out.
Disclosure: I am long C.