We wrote about American Capital Agency (NASDAQ:AGNC) after it went ex-dividend on June 19th. Based on the run-up in the shares recently, we believed that the company would take advantage of its market price premium in relation to its book value in order to issue a secondary offering of stock. On July 17th after the market closed, AGNC announced it was issuing 32 million shares with an underwriter's option for an additional 15% over the next 30 days. Considering that CYS Investments (NYSE:CYS) saw its secondary offering upsized by 33%, we believe that there is potential for AGNC's share offering to be increased as well.
We were ecstatic when we saw the share offering because we were waiting for the company to take advantage of its premium to book value in order to issue shares so that we could get in at a slightly cheaper price. Now that the company has also released preliminary Q2 financial information, we have moderated our enthusiasm on AGNC a bit. But overall it is still among our favorite mREITs. We're not worried about it becoming the next Thornburg or Anthracite.
We were disappointed that although AGNC increased its book value per share by 1% (from $29.06 to $29.35) during the quarter, it was less than we anticipated. Even after taking into account the 2.2% decline in July 17th after-hours trading and the positive adjustment to book value from selling new stock at a price above current book value, we see that AGNC has an adjusted market premium to book value of 15.57%. That explains why we moderated our enthusiasm for the company.
Click to enlarge images.

Source: AGNC Secondary Offering Press Release and Saibus Research Estimates.
We were disappointed in the company's linked quarter performance. We were disappointed that comprehensive income per share declined from $2.44 in Q1 2012 to $1.50 in Q2 2012. We were also disappointed that spread income per share also declined sharply from $1.42 in Q1 2012 to $0.94 in Q2 2012. On a year-over-year basis, spread income declined from $1.41 in Q2 2011 to $0.94 in Q2 2012. We were displeased to see that the company's lifetime constant prepayment rate (CPR) increased from 9% in Q1 2012 to 12% in Q2 2012, even with a decline in the average coupon of the portfolio.
The company also recorded a $0.90 loss per share on a GAAP-basis reporting, due to unrealized losses in the fair value of AGNC's hedges. The reason why there is a wide disparity between the GAAP-basis loss per share and the strong positive comprehensive income per share is because the comprehensive income per share saw changes in the value of its mortgage-backed securities reflected in other comprehensive income, which sometimes does not impact the income statement until the securities are sold.
We believe that investors should realize that the generous yields that mREITs pay are due primarily to the spread between interest rates on repurchase agreements and other financial liabilities and the interest rates realized on mortgage instruments that the manager invests in, as well as the leverage utilized. We are amazed at the level of capital growth that has been achieved by the mREITs, especially AGNC. We believe that this is due to increasingly shrinking amount of high quality investment opportunities that also offer high payouts of interest and dividends.
One advantage that mREITs have vs. bank stocks is because mREITs are pass-through entities and are not taxed at the business level, unlike banks. Even though dividends from mREITs are taxed at the individual's ordinary income tax rates vs. a maximum of 15% tax on bank stock and other qualifying corporate dividends, an mREIT investor can typically realize higher dividend (earning) potential on mREITs since it is only taxed once at the investor's rate, vs. 35% corporate tax rate and a 15% tax rate for the dividend distribution, resulting in an effective tax rate of 45.5% for corporate income distributed to shareholders as a "qualifying dividend." We believe that even though mREITs are facing a flattening yield curve and cannot in any way be counted on for any realistic dividend per share growth, high quality mREITs like AGNC, American Capital Mortgage Investment (NASDAQ:MTGE), and CYS can be counted on for 10%-14% dividend yields
In conclusion, we are pleased to see AGNC issue its secondary share offering. We think with the release of the firm's preliminary Q2 financial results, the price of the company will rationalize. We have great admiration for Gary Kain and AGNC's performance under his watch.
At the same time, we have a few concerns, considering that spread income has seen a shocking decline in its spread income per share from $1.42 in Q1 2012 to $.94 in Q2 2012. We weren't worried that the company was expecting to report a GAAP net loss per share of ($0.90); however, based on the decline in comprehensive income, we believe that investors who currently own shares of AGNC should be looking to take their profits and re-enter at a lower level. With regard to the mREIT sector, our top choice is CYS because that firm is trading at a much lower premium than AGNC. With regard to mREITs managed by American Capital (NASDAQ:ACAS), we would probably prefer MTGE, since it has a lower projected premium to book value.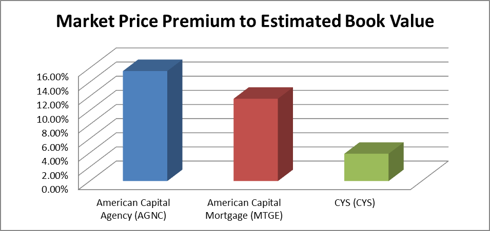 Source: Company Press Releases and Saibus Research Reports.
Disclosure: I am long CYS.
Disclaimer: Saibus Research has not received compensation directly or indirectly for expressing the recommendation in this report. Under no circumstances must this report be considered an offer to buy, sell, subscribe for or trade securities or other instruments.