Marketwatch and Dow Jones Newswire point out today the stark contrast between E-Trade's (NASDAQ:ETFC) first-quarter loss and profits at Charles Schwab (NYSE:SCHW) and Ameritrade (NASDAQ:AMTD). So why did E-Trade's shares jump a total of 20.7% by the end of after hours trading on April 17, 2008? The details in E-Trade's conference call earlier that afternoon presented a successful "Turn Around Program." A "Turn Around" from what?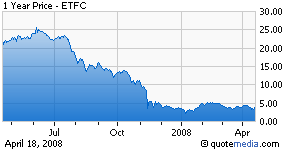 The date was Monday, November 12, 2007. That was the day Prashant Bhatia, a Citigroup Analyst, released an analysis report on E-Trade with the headline, "Bankruptcy risk cannot be ruled out." The inflammatory title of Mr. Bhatia's report spawned several nationally televised [CNBC] and written [Marketwatch, Wall Street Journal] commentaries, each repeating the "B" word without sufficient disclosure of facts. The national exposure fueled Mr. Bhatia's report into an inferno of disaster for E-Trade.
E-Trade's stock price declined more than 59% from the previous trading day to a low of $3.46 per share; much lower than Mr. Bhatia's $7.50 target price. Brokerage clients fled from E*Trade to other brokerages as Mr. Bhatia's words, "If customers rush to withdraw their money," became a reality. In the months that followed E-Trade's stock price has been as low as $2.08 on January 8, 2008 and achieved a high point of only $6.04 on November 29, 2007. Yesterday, April 17, 2008, E-Trade's stock price closed at $3.62, only 16 cents higher than the November 12, 2007 price. So it is not surprising that a E-Trade's call presenting their successes in the "Turn Around Program" should result in a 20.7% share price increase.
Successful client and trading metrics reveal "growth in new customer relationships, even during a difficult environment, [and demonstrate] the continued strength and appeal of the E*TRADE brand." (quoted from Donald H. Layton, Chairman and CEO, E-Trade Financial Corporation). E-Trade's survival is no longer in question, even though mortgage exposure continues to weigh on the company. The damage from November 12, 2007 is now showing a turn around through E-Trade's "creativity," "frugality," and "stability."
Creativity—The S&P lowered their opinion on shares of TD Ameritrade (AMTD) to Hold from Buy on March 28. Why? The S&P stated in part that they "see [AMTD] margins being pressure by the high level of advertising spending and by increased customer incentives from primary competitor E-Trade." E-Trade is competing aggressively through customer mail solicitations, platform trading upgrades, customer incentives (for example, Free ATM Services), and advertisements. The most famous E-Trade advertisement is their Superbowl 2008 Baby Ad. USA Today and TiVo ranked the E-Trade Baby Ad Number One and pointed out that even though celebrity appearances in Super Bowl advertisements included Justin Timberlake, Shaquille O'Neal, and Carmen Electra, "yet, for all the star power they generated, the E-Trade talking baby may have upstaged them all, taking the coveted top spot." (see it on youtube.com)
Frugality—Reuters recently released news that E-Trade "sold its corporate jets." Yesterday's financial report discloses that this frugal action provided a "$24 million gain on the sale of corporate aviation-related assets." Also, E-Trade CEO Donald H. Layton has "requested that all of his 2008 and 2009 incentive compensation be in the form of equity. His employment agreement states that in those years nearly 90 percent of his total compensation will be composed of restricted stock and stock options, with no cash bonus. This conservative spending and top-level stock incentive program will positively affect stock value.
Stability—In November E-Trade negotiated a $2.5 billion cash infusion from Citadel and added additional private insurance coverage for customer deposits; activities that stabilized the balance sheet and enhanced customer security. E-Trade continues to move forward with actions that will reduce mortgage portfolio risk and increase capital and reserves. Since the 1990s E-Trade built up a loyal online trading clientele, developed an innovative trading platform, and established a reputation as one of the most secure (hacker safe) online brokerages. E-Trade's involvement in the "subprime mortgage crisis," as with all mortgage lenders; will require a period of watchfulness and adjustment. Yesterday's financial report shows that the problem has stabilized and is being properly managed.
E-Trade CEO Donald H. Layton stated,
Our expectation is that we will return to quarterly profitability later this year. As you all know the company has twin priorities right now; to return the core business to full competitive growth and to strengthen our balance sheet. I am happy to report that the first quarter was strong on both fronts.
I have used E-Trade for online trading for over three years. I did not flee to another brokerage firm when Mr. Bhatia caused such panic back in November. Since my money is held in E-Trade accounts, I considered moving it somewhere else, so during that process I read many articles and blog comments regarding E-Trade. I have not moved because the comments I have read say that E-Trade has a superior trading platform and superior US andglobal product offering. As E-Trade's "Turn Around" is established, many previous customers will return to so that they can have the advantage of the superior trading platform.
I think that E-Trade's price will move quickly up to at least $5 to $6 per share like it was back in February 2008. No reason exists for it to stay in at such a "depressed" $4 value.
Disclosure: I hold a long position in ETFC and STX.