MLPs or Master Limited Partnerships make for interesting investing dilemmas right now.
On one hand, the dividend yields on popular MLPs such as Magellan Midstream Partners, L.P. (MMP) at 4.5% are a lot more lucrative than Treasury yields. The rate on the 10 year at 1.44% is paltry in comparison to this MLP. On the other hand, the yields for most MLPs are at multi year lows from surging stock prices.
Magellan Midstream Partners is a publicly traded partnership that primarily transports, stores and distributes petroleum products. The partnership owns the longest petroleum products pipeline system in the country, with access to more than 40% of the nation's refining capacity, and can store 80 million barrels of petroleum products such as gasoline, diesel fuel and crude oil.
Surging Payout, Slumping Yields
Even surging payouts have been unable to keep the yield at a more reasonable rate as investors jump into high yield stocks. As per the chart below, the quarterly payout has jumped from $0.64 to $0.84 over the last five years. Also, note how the stock yielded nearly 6% back as the end of 2008 before the financial crisis took hold.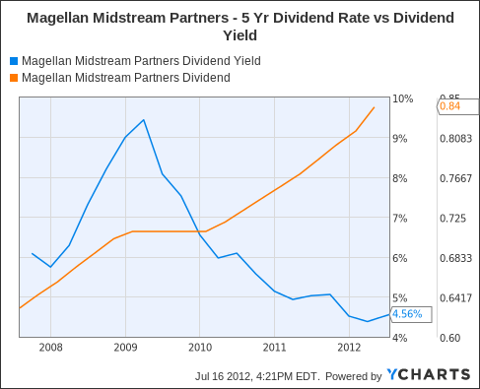 Click to enlarge
MMP Dividend Yield data by YCharts
As the below stock chart shows, constantly rising stock prices is the main culprit for the dropping yield. Investors desperate for yield have latched onto this stock and sent it up more than 100% in the last 3 years. The price in fact hit a new all time high on Monday.
Chart - 3 Year MMP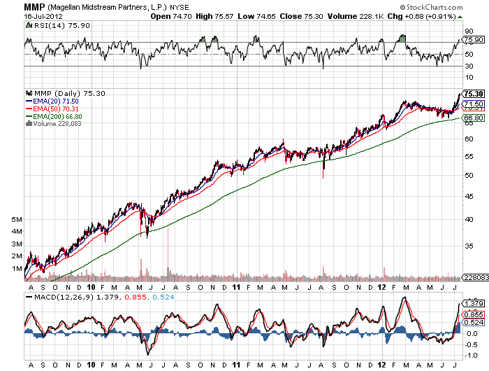 Click to enlarge
Competition
The one factor that troubles any investment decision in this sector is the lack of competitive fears. At some point the market is going to be saturated with pipelines and storage terminals. New pipelines from the Eagle Ford will make others obsolete. New storage terminals in Cushing, OK could increase the pricing power of existing ones.
The Q112 report showed a drop in petroleum pipeline operating margin by $1M. Analysts don't see any trouble in the future with higher earnings forecast for 2013, but one day this will become an issue.
The other competitive issue for this stock are the other MLPs with higher yields. Boardwalk Pipeline Partners, LP (BWP) yields 7.6% and Plains All American Pipeline, LP (PAA) yields 5.0%. Both clearly offer better yields for investors wanting to shop around in the sector.
Conclusion
Since price performance over the last few years has greatly exceeded the growth of the dividend, investors need to be alert. The growth spurt probably won't end today or next month, but eventually this sector will revert back to the mean.
After all, investors need to remember that this company primarily transports and stores petroleum products. This is not a sexy business nor does it have a huge barrier to entry. The market has already seen where storage at Cushing, OK got out of hand. At some point this will hurt the margins of the storage companies. Supply and demand will impact the MLP companies similar to any other industry.
Disclosure: I have no positions in any stocks mentioned, and no plans to initiate any positions within the next 72 hours.
Additional disclosure: Please consult your investment advisor before making any investment decisions.