Intel (NASDAQ:INTC) released yet another earnings beat yesterday, July 17, reporting Q2 earnings of $0.56/share vs analysts' consensus of $0.52/share. Nonetheless, a cautious outlook on PC sales for the rest of the year overshadowed another solid performance. (For the full transcript of the earnings call, click here.)
I'm very bullish on Intel in the long term, as I believe the company is well positioned to move into the smartphone/tablet processor market while continuing its dominance in producing processors for "traditional" desktop and laptop computing. For others who, like me, are bullish on Intel in the long term, a very attractive long-term leverage opportunity is available for essentially no cost.
Take a look at the Intel options expiring in January 2014, approximately 18 months away:
Source: Nasdaq.
Given that the stock price of Intel is hovering around $26.00 as I write this, the $15 and $18 strikes are particularly attractive. Why? Essentially no time premium. The $18 strike trades at $8.25/contract, which has a 1% time premium ($0.25) to the current price -- basically negligible over the 18-month holding period, especially for those bullish on Intel. The $15 strike trades at $11.10, meaning the contract includes only $0.10 (0.4%) of time premium -- the rest is intrinsic value.
I'm already long Intel stock, but since Intel is currently in a "dip," I'm not going to turn down this opportunity for essentially free leverage.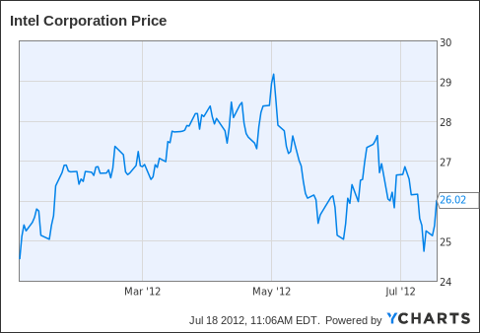 Assuming a fairly conservative price of $30 for Intel on expiry (just 2.5% above the 52-week high of $29.27), the trade's profit for the $18 strike is 45% over the 18-month period. If you believe Intel will continue to increase EPS and FCF, this is a great way to get some long-term leverage on the cheap.
Disclosure: I am long INTC shares and the January 2014 $18 calls.