Equifax (NYSE:EFX) has agreed to acquire a 28 percent equity stake in Global Payments Credit Services LLC , a leading credit information company in Russia partly owned by a unit of Global Payments Inc. (NYSE:GPN). They will have the option to ramp up to 50%, which is the maximum according to Russian regulations. This apparently is in keeping with their announced ambitions to open up in Russia, China, India and Mexico.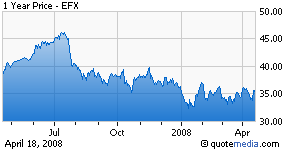 International sounds really good. If you break down the growth rates of many an enterprise, the international numbers are where the action is. Domestic US numbers are tough trench warfare slugfests. But when an established product goes overseas the value proposition is obviously compelling. The underdeveloped world aspires to the trappings of the middle class and its inherent materialism.
Can this translate to a sophisticated intellectual capital purveyor such as a credit reporting company? The western world's use of credit information, fraught with inaccuracies such as it is, has evolved over time and required a growing level of maturity and sophistication within the financial community. At the same time numerous consumer and privacy rights laws have been imposed by western governments.

These expansions along with what management has called opportunistic tuck ins do not have publicly declared price tags. Financial details have not been disclosed and probably will not be. Russia, China, India, Mexico are all huge markets and will not be cheap. Equifax has a market cap of some $4.67 Billion or thereabouts. They traditionally seem to run with a negative working capital ratio.
How do you track this one?