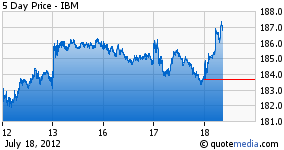 IBM is expected to report Q2 earnings after the market close on Wednesday, July 18, with a conference call scheduled for 4:30 pm ET.
Guidance
The consensus estimate is $3.42 for EPS and $26.28B for revenue, according to First Call. IBM has beaten estimates the last four quarters and is coming off a quarter where it topped forecasts by 15c. Consensus estimates for IBM have been gradually reduced since June based on concerns of weakening foreign economies. IBM gets about 60% of its revenue outside the U.S. The whisper number is said to be at $3.49, but this could have moved lower given the recent pullback in shares. IBM, like many multinationals, will see unfavorable currency effects this quarter, while the key to the quarter seems to be margins and the software business.
Analyst Views
RBC Capital Markets expects a positive Q1. The firm is expecting EPS/sales of $3.40/$26.1B, in-line with consensus. The firm believes IBM's software business will continue to see mid-single digit growth while the hardware businesses will likely remain flat to down on a year-over-year basis. In addition, RBC believes the company will see a ~150bps revenue headwind in the quarter due to forex rate headwinds. Positively, RBC believes IBM has multiple levers to pull in order to continue driving towards guidance of "at least $20" in EPS by 2015. RBC says there will likely be no change to the full year outlook. Big tech companies including Cisco Systems (NASDAQ:CSCO), Hewlett-Packard (NYSE:HPQ) and Dell (NASDAQ:DELL) have guided estimates downward.