Keep your eyes peeled for a much-anticipated earnings report from video rental retailer Netflix (NASDAQ:NFLX) scheduled to release its results after the bell on Monday. The stock tends to add to gains or losses the next day following its earnings reaction in the after-hours. In other words, go with the after-hours trend.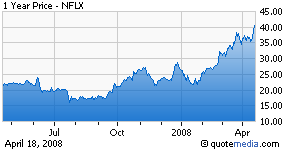 From a technical standpoint the stock is in a long-term uptrend and not far from its 52-week high of $40.90. Looking back through its earnings reaction history, the stock has been very consistently underpriced in the after-hours compared with how it finished by the close the following day. In other words, if it drops after-hours on earnings it's likely to fall further the next day. Similarly, a price hike on Monday night is likely to be increased during Tuesday's regular session.
The guidance component is of paramount importance when analyzing just about any earnings release and its likely effect on the underlying stock price. In the case of Netflix the rule is no different. When guidance deviates significantly from expectations, historical price reactions to earnings events in NFLX have demonstrated follow-through buying and selling the next day and well into the next quarter is amplified.
Taking a look at the earnings reaction history from our Earnings Notebook service. We can see the after-hours and regular session price reactions going back four quarters. It's all about Guidance and getting long or short after-hours:
Go with Monday's after-hours sentiment.
On January 23, 2008, NFLX dropped 1.9% in heavy after-hours trading following its better than expected Q1 earnings report and guidance that was firmly ahead of street estimates. Despite the seemingly positive news, shares added to after-hours losses, finished there following regular session down 7.6%.

On Oct. 22, 2007, the stock jumped 13.5% in evening trading after reporting ahead of the Street with Q3 results and guiding higher for Q4 and the full year. The gain was pared just slightly, to 12.9% the next day.

On July 23, 2007, NFLX dropped 4.4% in night trade after missing Q2 sales estimates and guiding below Street views. Shares fell further the next day, ending the regular session down 6.9%.

On April 18, 2007, NFLX tumbled 11.5% in pre-market trade after missing Q1 sales estimates, meeting on EPS and issuing guidance that could miss expectations. However, shares bounced slightly during the regular session and closed down a less steep 9.4%.
Not every stock reacts as Netflix does so getting familiar with the after-hours market and stock specific earnings reaction histories is critical. Those who are paying attention to and trading in the after-hours market are once again ahead of the game.
Disclosure: No position.