Well, you know, in the summer in Texas we have what I call FM weather, it's like the FM dial, it starts at 88 and goes to 108. And it's pretty hot, yeah. -- Michael Dell
That's how the chairman, founder, and CEO of Dell Inc. (NASDAQ:DELL) started off a very telling interview today. And maybe the weather in Texas is an appropriate analogy: Dell's business is a lot hotter than most commentators give it credit for. I've been fairly bullish on Dell for a while now. Why?
Well, Dell's been treated a little unfairly. Viewed as "old tech" by the market as a whole, it has seen a sell-off all the way down to the tune of a P/E under 7. The market is pricing Dell like it's about to collapse, yet its net income and FCF sing a different tune.
(click image to enlarge)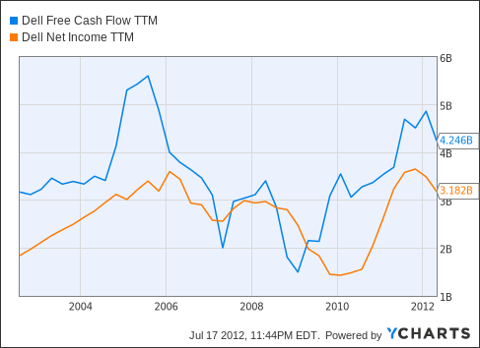 Click to enlarge
DELL Free Cash Flow TTM data by YCharts
Why the disparity? Well, in three words: weak PC sales, the same thing that's hitting Intel (NASDAQ:INTC) and HP (NYSE:HPQ). With tablets eating traditional desktop computers for breakfast, lunch, AND dinner, it's no wonder that Dell -- seen as a "PC company" -- makes investors sad. Dropping PC sales will mean decreasing revenues for Dell, and that means the world will end, right?
Not so much. The interview, which you can find here, is very interesting. The key takeaway, in my opinion, can be found in Michael Dell's discussion of the company's shifting business mix:
[Y]ou know, if you sell let's say $1 billion worth of PCs versus $1 billion worth of software, those are going to have very different characteristics in terms of free cash flow and margin. So, herein lies some of the difficulty in looking at Dell strictly from a revenue standpoint because the business mix is shifting. So, we're already at about half of our gross margin is not the PC. You know, last year our cash flow grew 39 percent, the $5.5 billion. So, the business mix is changing pretty dramatically and what I just kind of described is the new Dell in the last five years, that's gone from about $10-billion business to about a $20-billion business.
Acquisition-hungry Dell is indeed shifting. As referenced by Michael Dell, enterprise solutions and storage accounted for 50% of Dell's gross margin as of Q1 2013. Global spending on IT products and services will top $3.6 trillion in 2012, buoyed by the rise of cloud computing. This trend shows no sign of slowing down, either. Enterprise spending on cloud services is expected to double from $109 billion in 2012 to $207 billion by 2016.
I've said it before, and I'll say it again: the market is ignoring a lot of value in old tech. Dell has shown strength in the fast-growing enterprise sector, and at the current valuation, it's a deal I can't ignore -- especially with Dell's initiation of a dividend.
Smart investors should take advantage of the market's ignorance. Dell isn't a PC maker anymore. When the market finally realizes that, Dell will be priced accordingly. Until then, buy the bargain.
Disclosure: I am long DELL.