JPMorgan (NYSE:JPM) reported a $5.0 billion profit last week despite a $4.4bn loss on trades booked by the Chief Investment Office (NYSE:CIO) or London Whale.
No one should be fooled by the $4.4bn of securities gains, credit reserve write-backs and DVA gains. These are not a real reflection of JPM's profitability. However, if you believe that the Whale's losses represent a once off mistake, rather than a more general lowering of risk management standards at JPM, then using once off gains to offset once off losses reveals a fair reflection of underlying profitability. That figure of $5bn or EPS of $1.21 is a pretty good result, even if it is down slightly on 2011, given current economic uncertainty.
Looking forward, the events within CIO should not have a significant effect on JPM. JPM has disclosed that joint earnings from the Treasury and CIO divisions generated 2011 net income of $1.35billion compared to group net income of $19.0 billion. The CIO's share of this is not disclosed but it would appear that closure of the unit will not cause a material reduction in JPM's profitability. Further, while the $4.4 billion loss is large, it is not going to make a huge difference to JPM's $130 billion capital base or affect its ability to meet Basel 3 ratio requirements.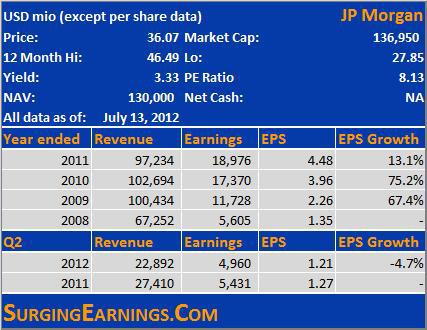 Consequently, priced on a multiple of only 8.1 times historic earnings, JPM looks cheap. The firm has remained profitable throughout the worst financial crisis in generations and remains profitable despite recent events. Consensus earnings for the full year point to EPS dropping from $4.48 in 2011 to $4.24 in 2012. However, earnings are forecast to grow at 7% thereafter. If JPM succeed in achieving this then purchasing at Fridays closing price of $36.07 would generate an internal rate of return of around 17%. This compares to the yield on restructured 10 year Greek government bonds of 25%.
I don't mean to make light of such a large loss but I think the reaction of the markets wiping out around $18bn of value is overdone. JPM is a great company with a global franchise and is well placed to benefit from recovery in the US as well as globally. At the current valuation the market has already discounted some pretty negative scenarios. This offers protection on the downside while allowing huge upside if they fail to materialize.
Risk Disclaimer: This article does not constitute a recommendation to buy or sell. Investing in stocks or other securities and derivatives is a high risk activity and not suitable for everyone. It is strongly recommended that individuals should consult with a SEC registered investment advisor prior to making any investment decisions.
Disclosure: I am long JPM.