Since Amazon's (AMZN) inception, Founder, Chairman and CEO Jeff Bezos, has bucked the pundits on Wall Street. "Stick with what you are good at - selling books" said the pundits, before Mr. Bezos successfully started selling everything from A-Z. With rumors of Amazon developing a smartphone and having to compete with the likes of Apple (AAPL), Samsung and Google (GOOG), the pundits are once again telling Amazon it has stinking thinking.
As an online retailer, Amazon is building a competitive advantage that will be almost impossible to disrupt. Rumors are floating around that Amazon may start making same-day deliveries since the company appears to have acquiesced with some states on the sales tax issue. If retailers think Amazon is hitting their bottom line now, wait until the company can deliver an item the same day as ordered. Why make a trip to Wal-Mart (WMT) or Target (TGT), when Amazon will deliver the merchandise to your door the same day?
While Apple, Samsung and Google have significant advantages over their competitors, I would venture to say the long-term competitive advantages of these companies are not as solid as Amazon's. Building a large network of distribution centers and developing relationships with third party sellers does not happen overnight. Outside of Wal-Mart, I can't think of a single company that could take on Amazon.
With Amazon's Kindle products, the company doesn't even have to make a profit on the sale of the device upfront, as the company can make a profit off of merchandise the customer purchases over time. Amazon could employ a similar strategy as Kindle with its smartphone offering, selling the device upfront at low cost and reaping the benefits over time as the customer purchases merchandise from Amazon. Jeff Bezos is no fool, he knows an Amazon smartphone will have to be differentiated from the competing offerings and Amazon's competitive advantage will enable the differentiation.
Amazon's stock price has been stuck in a trading range between $170 and $245 over the last year as shown below: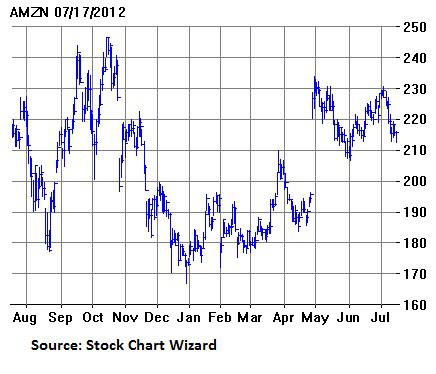 The company's stock price is currently stuck in the middle of the trading range around $215.
In a series of articles, a variety of trades have been considered in order to take advantage of Amazon's trading range and realize a return of 25% in three months using a bull-put credit strategy and a return of 3.4% in one month using a protected covered call or collar strategy. Using the various option strategies, a return of 28.4% was generated in about four months while a long position in Amazon during the same period of time would have realized a profit of about 16%.
With Amazon's upcoming earnings release scheduled for July 26, 2012, a bull-put credit is deemed too dangerous, but a protected covered call may be considered, as it positions for a potential return, yet provides protection in case the stock price drops significantly. A protected covered call may be entered by selling a call option against the stock and using some of the proceeds from selling the call option to purchase a put option for protection or "stock insurance".
Using PowerOptions tools, a number of potential protected covered call positions are available as shown below:

Click to enlarge
The highest potential returning position is attractive and has a potential return of 2.8% (33% annualized) and a maximum potential loss of 7.9%, so even if Amazon's stock price drops to zero, the maximum loss which can be sustained is 7.9%. The 2.8% potential return is realized even if the price of the stock is unchanged at option expiration in Aug of 2012. And, if the price of the stock is greater than the strike price of the call option at expiration, then the position will return 3.9% (46% annualized). The specific call option to sell is the 2012 Aug 220 at $8.65 and the put option to purchase is the 2012 Aug 195 at $2.66.
Trade
AMZN stock (purchased or existing)
Sell AMZN 2012 Aug 220 Call at $8.65
Buy AMZN 2012 Aug 195 Put at $2.66
A profit/loss graph for one contract of the Amazon protected covered call position is shown below: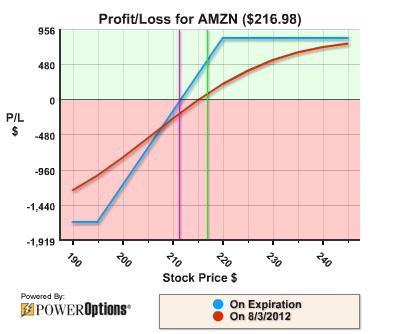 For a stock price below the $195 strike price of the put option, the value of the protected covered position remains unchanged. If the stock price increases to around $240, the position can most likely be rolled in order to realize additional potential return.
Disclosure: I have no positions in any stocks mentioned, and no plans to initiate any positions within the next 72 hours.