The smartphone revolution propelled by Apple's (AAPL) iPhone and other vendors has been adding some nice change to AT&T's (T) pockets, as noted in the company's Q1 2012 earnings call held on April 24, 2012. The company reported revenue of $31.8 billion which was up 1.8% year-over-year, which doesn't look like anything to write home to Mom about, but the company's mobile data growth clocked in at 20% and mobile growth looks primed for continued stellar growth.
AT&T is still behind its competitor Verizon (VZ) in rolling out 4G LTE, but appears intent on catching up, as AT&T topped the Progressive Policy Institute's list of the top companies by capital expenditures in 2011. According to the list, AT&T invested $20.1 billion in capital in 2011, with Verizon following not too far behind with $16.2 billion in capital expenditures. Other notables on the Progressive Policy Institute list include oil and gas company Exxon Mobil (XOM), retailer Wal-Mart (WMT) discussed in this article and semiconductor company Intel (INTC) covered here.
Even though AT&T is behind Verizon on quantity, the company appears to be ahead in quality for 4G, according to a 4G speed test performed by PCWorld. AT&T's average 4G download speed clocked in at 9.12 megabits per second while Verizon's download speed averaged 7.35 megabits per second. Verizon's average upload speed was 5.86 megabits per second which was higher than AT&T's upload speed of 4.91 megabits per second, however when it comes to mobile data, download speed is more critical than upload speed, as downloaded video, images, etc. can require a lot of bandwidth.
AT&T noted it acquired additional wireless spectrum via ten separate transactions in Q1 and has four more in the works. The company's iPhone churn was the lowest in 5 quarters, so the company appears to be stemming the transition of iPhone users to other carriers.
AT&T added more than 700,000 subscribers in the first quarter and is on track to double 4G LTE coverage this year and largely complete the roll-out of 4G LTE by the end of 2013. The company noted it has the largest WiFi network in the country with nearly 30,000 hotspots. AT&T now has 41 million smartphones on its network, which is nearly 10 million more than one year ago.
AT&T indicated its digital television offering, U-verse, is gaining traction and if it were a standalone company it would be included the Fourtune 300, which is pretty good, considering the business was only started about 5 years ago.
AT&T's stock price has been ballistic over the last seven months or so as shown below: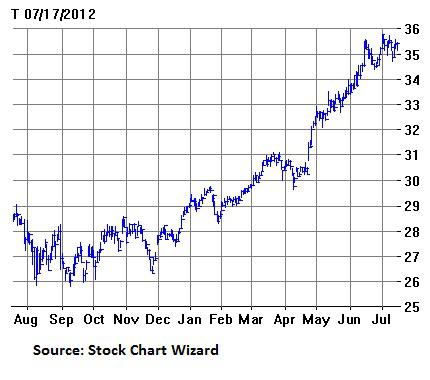 With AT&T's upcoming earnings release scheduled for July 24, 2012, an investor sitting on a nice profit in AT&T stock might consider entering a protected covered call in order to position for a potential return and provide for protection in case the company reports some bad news. A protected covered call may be entered by selling a call option against a stock and using some of the proceeds to purchase a protected put option which operates as "stock insurance."
Using PowerOptions tools, a protected covered call was found for AT&T with a potential return, including dividend payments, of 3.5% with a maximum potential loss of 8%. So even if AT&T's stock price drops all the way to zero, the maximum loss which can be experienced is 8%. The specific call option to sell is the 2012 Oct 36 at $0.83 and the put option to purchase is the 2012 Oct 32 at $0.30.
Trade
Stock T (existing or purchased)
Sell T 2012 Oct 36 Call at $0.83
Buy T 2012 Oct 32 Put at $0.30
A profit/loss graph for one contract of the protected covered call is shown below: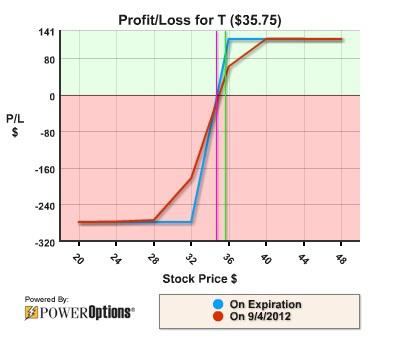 For a stock price below the $32 strike price of the put option, the value of the protected covered call remains unchanged. If the price of the stock increases to around $40, the position can most likely be rolled in order to realize additional potential return.
Disclosure: I have no positions in any stocks mentioned, and no plans to initiate any positions within the next 72 hours.