Google Inc. (NASDAQ:GOOG) shares were up 17% Friday after the web lion reported better-than-expected first quarter results that even had Comscore Inc. (NASDAQ:SCOR), the data provider that tracks the most-visited Web sites, looking bad. Google stock was up almost C$18 to C$529.79 at around 10:30 a.m Friday.
RBC Capital analyst Ross Sandler said the bulk of the revenue upside generated in the quarter was from Google's international operations, noting the robust growth rates in the U.K., up 39% year-over-year, and the rest of the world, up 63%.
Mr. Sandler said he was impressed with Google's cost controls during the quarter, saying the company has been able to maintain growth, with margins stable for three quarters in a row at 58%.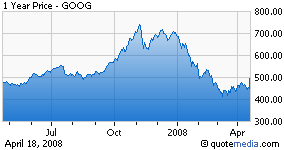 He maintained his "outperform" rating and increased his price target from C$530 to C$550.
In a note to clients he said:
We expect more upward momentum [in the shares] in the near term. However, over the intermediate-term (next 2 quarters) we still believe that Google could face some economic headwinds in the U.S. and U.K., which could create more volatility in the shares. We would be opportunistic buyers on dips on this environment.
Over at Goldman Sachs, analyst James Mitchell viewed the results positively as well, but cautioned clients in a report about the deceleration in net revenue growth over the past few quarters, despite management's claim that the economic cycle is not impacting its growth.
He wrote:
Some factor is having an impact, with faster price per click growth not fully compensating for slower paid click growth.

We assume that factor may be slowing aggregate query growth in developed markets because of Google's already-elevated search market share and maturing broadband penetration, though we are unsure why the last two quarters saw a greater impact than the prior two.
Mr. Mitchell's C$560 price target and "buy" rating remains unchanged.
Meanwhile, one of Google's biggest bulls, Canaccord Adams analyst Colin Gillis, maintained his "buy" rating and $755 price target.