Retail stocks seem to be in a tailspin, the consumer is dead, the economy is taking it on its chin. But don't tell that to Lululemon Athletica (NASDAQ:LULU) which recently announced that sales for its fourth quarter (ending February 2) were up over 100% compared to last year.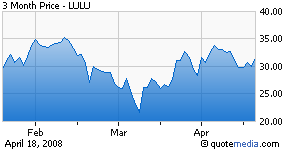 Despite what even the company's management concedes is a weak retail environment, expansion continues to be underway as LULU transitions from being a small Canadian niche player to a broadly accepted women's sports apparel authority.
Believe it or not, there are some functions of the consumer slowdown that benefit the company. As large retailers become cash strapped and decide to pull back in their expansion plans, LULU, who enjoys a healthy balance sheet, is able to acquire leases in prime real estate locations that under normal circumstances would be difficult to procure. Management is intensely focused on "seeding" new markets it enters by first driving demand through reaching out to local fitness professionals and gyms to stimulate demand. Once the story has begun to generate buzz, the company then enters the market with full blown stores and usually is successful in rolling out the concept and quickly generating sales.
Once those stores are in place, however, the company is not content to allow them to perform according to the status quo. Same store sales continue to ramp up as both strong merchandising as well as targeted marketing drive repeat and new business to the stores. Last year the comparable store sales were up 34% on a raw basis or 24% when counting currency adjustments (the majority of the company's sales are still in Canada). While management is guiding comp store sales to grow in the low teens (high single digits adjusted for currency), Williams Brothers expects most guidance numbers to be handily beat as the growth is in the very early stages and should be relatively immune to macro-economic forces.
The company plans to open another 35 stores in North America this year on top of the 81 stores already in place worldwide. While these new stores won't be included in comp store sales figures, management noted that up to this point, new stores not yet included in this metric have been performing ahead of expectations.
Despite managements' best efforts at managing growth carefully, mistakes are still sometimes made. The true test of a leader is not whether he or she operates without making mistakes, but rather how they operate once such a decision has been uncovered. As Christine Day (the new president and soon to be named CEO) was in the process of taking leadership of the company, it came to management's attention that its four stores in Japan were operating profitably, but were taking an inordinate amount of management's time and the company's resources. Rather than pour more resources into the project to get it running more smoothly, the company made the difficult but necessary decision to shut down its Japanese presence. While this requires them to take a small short-term hit to earnings, the added focus that management can now spend in the US should strengthen its growth initiatives and lead to higher quality earnings growth.
Looking at the stock, it appears that buyers are beginning to warm up to the name after giving up some excessive speculation from late last year. The high multiple (nearly 43 times this year's expected earnings) still leaves some risk in the stock, but because of the strong growth rate and the company's focus on a niche of the market that is underserved and has ample discretionary spending, it should thrive compared to other more traditional apparel companies. This name should be played with a defensive strategy (possibly selling calls against a stock position), but could be an attractive part of a well balanced portfolio.
FD: Author does not have a position in LULU