Commodity Charts Of The Day
An Ignored Commodity Sector: Livestock
(click images to enlarge)
Before the 1% advance today, live cattle prices were 11% off their highs in 2012. In the August contract prices could be finding support around the $1.15 level for the third time in the last four months. Stay tuned...an interim bottom may be in the making.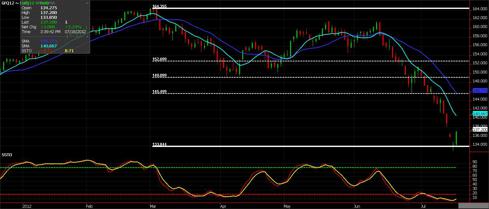 Click to enlarge
Feeder cattle have fallen off a cliff, with prices declining 16% in the last five weeks. Prices have reached extremely oversold levels as cattle advanced the daily limit today, closing the gap from earlier in the week. Expect a bounce moving forward, but I'm not convinced the selling is done just yet. Although a trade back above $1.44, a 5% bounce from today's close, could play out.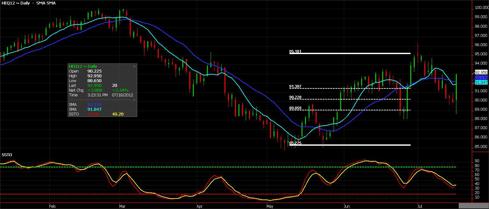 Click to enlarge
After a 6% slide the last two weeks, lean hogs also find some buying support today, gaining the daily limit up 3.34%. Being prices have completed a 61.8% Fib retracement, I would say dips are a buy as long as 89 holds on a closing basis in the August contract.
Short-term, the entire livestock complex should trade higher, in my opinion.
Risk Disclaimer: The opinions contained herein are for general information only and not tailored to any specific investor's needs or investment goals. Any opinions expressed in this article are as of the date indicated. Trading futures, options, and Forex involves substantial risk of loss and is not suitable for all investors. Past performance is not necessarily indicative of future results.
Disclosure: I have no positions in any stocks mentioned, and no plans to initiate any positions within the next 72 hours.