For a solar stock, Advanced Energy Industries (NASDAQ:AEIS) offers a premium valuation. Trailing earnings are just 43 cents per share; even after an 18% drop over the last two weeks, Advanced Energy offers a P/E over 26 on a trailing basis.
Bulls might counter that earnings are expected to grow, and point to the company's strong balance sheet. Using 2013 consensus estimates compiled by Reuters, and backing out Advanced Energy's $2.58 per share in net cash, the forward P/E drops to a far more reasonable 7.5.
But there are some problems with this logic. First, as I noted in my piece on fellow solar player Amtech Systems (NASDAQ:ASYS) back in March, it's unclear how current the Reuters data is. In Amtech's case, after a disappointing second quarter, FY 2012 data was severely outdated, with one analyst still projecting full-year earnings despite massive losses and severe revenue drops in the first half of the fiscal year. Given the struggles in the solar industry, it seems highly unlikely that analysts still expect FY 2013 non-GAAP earnings of $1.18 per share, double the current trailing non-GAAP figure.
Second, Advanced Energy doesn't have the same level of cash it did at the end of the first quarter on March 31st. A $75 million share repurchase was authorized in November; Advanced Energy announced its completion on June 5th. Based on the activity in Q4 2011 and Q1 2012, it appears that Advanced Energy repurchased $35 million between April 1st and June 5th, representing somewhere in the neighborhood of 2.8 million shares. By now, Advanced Energy's cash per share net of long-term liabilities likely sits below $2.
Given the carnage in solar stocks of late -- the Market Vectors Solar ETF (NYSEARCA:KWT) is down more than 50% from its February high -- Advanced Energy's valuation is particularly puzzling. In fact, the driver behind the current valuation -- and the company's rise against a backdrop of plummeting peers -- is the repurchase program itself. That $75 million authorization, as noted, represented 20% of the company's market capitalization. But it also accounted for a striking amount of Advanced Energy's volume. Three-month trailing average daily volume, according to Yahoo Finance, is about 400,000 shares per day, representing roughly $5 million in daily volume for the stock. Over the six-month span of the share-repurchase program -- spanning about 125 trading days -- total volume in Advanced Energy was roughly $600-$700 million.
As such, Advanced Energy purchases represented at least 10% of total trading volume over the six months in which the buyback was in effect. On a relative basis, that type of demand can significantly boost a stock price, and it certainly appears that it did so for Advanced Energy. Look at the two-year chart for Advanced Energy and KWT, and note that the tight correlation between the two breaks down leading into the repurchase program:
Click to enlarge image.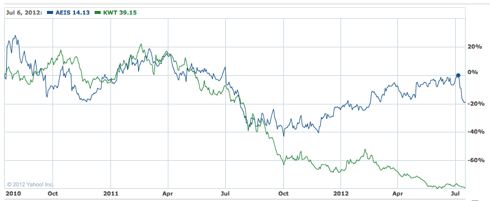 Source: Yahoo Finance.
Advanced Energy did show some relative strength in September and October, before the repurchase begins. But as the repurchase kicks into full gear in 2012, note that the divergence expands. Advanced Energy continues to rise as the solar ETF drops away. Advanced Energy stayed strong into the end of June, after the buyback's completion was announced, but it saw strong selling pressure last week and is down nearly 20% from recent highs.
It's worth pointing out that Advanced Energy is not a pure solar play; its Thin Films segment, which includes customers in the semiconductor and flat-panel display industries, accounted for 60% of sales and substantially all of operating income in 2011. But that segment is, like solar, at a cyclical low; if the solar industry stays depressed, Advanced Energy is simply not going to create the earnings growth analysts had projected.
Without that earnings growth, Advanced Energy will not sustain its current multiple. And without the demand supplied by the recent repurchase, the stock price will continue to fall. It's worth pointing out that despite the bull run in 2012, the repurchase agreement cannot -- right now -- be classified as a success. In the fourth and first quarters, Advanced Energy repurchased about 3.7 million shares for $39.9 million -- an average price of $10.78. The remaining $35 million was spent between April 1st and June 5th; Advanced Energy spent most of April trading around $12 per share and most of May and June between $13 and $14. Assuming -- conservatively -- an average cost of $12.50 per share after April 1st, Advanced Energy's total per-share cost for the $75 million buyback comes to $11.54 -- slightly above Wednesday's close of $11.46. It would appear that Advanced Energy overpaid for its shares, and without the support of the buyback going forward, those shares should continue to fall.
Disclosure: I have no positions in any stocks mentioned, and no plans to initiate any positions within the next 72 hours.