Clearwire (CLWR) demonstrates just how complex long-term investing can be. The company's stock price has dropped consistently over the past few months. With earnings set to be released on July 26, we thought it would be appropriate to provide a preview of what to expect and what the company should do so that its stock price can stabilize. But first, we feel it is important to explain recent developments.
Overview
Since our last article on Clearwire, which was published on June 7, the stock has dropped nearly 14%. The size of this selloff is not what makes it odd. Rather, it is the fact that since our last article, there has not been any real negative news about Clearwire. It seems the stock can do nothing but go down. It fails to rally on anything that can be construed as good news.
It would be one thing for us to see negative headlines regarding Clearwire and then explain why the bullish thesis is intact. But there have been no new negative headlines for us to refute. Simply put, this latest selloff is one we are struggling to come to terms with. It seems that Verizon's (NYSE:VZ) spectrum deal will be approved by the FCC, but given how much Clearwire's stock had dropped when that deal was announced, we see little reason that it should fall again. In any case, we provided an overview of why the deal is not a threat to Clearwire in a previous article.
Furthermore, both the FCC and Justice Department are investigating this deal. The FCC is reviewing the spectrum aspect, and the Justice Department is looking at the marketing deal Verizon struck with the cable companies. Though Verizon insists that the two are unrelated, we think otherwise. The cable companies have suggested that they will back out of this deal if they have to give up too much. Things in Washington are rarely simple, and it is likely that these two aspects of the deal are more connected than Verizon is letting on.
Network Developments: Good for Clearwire
There have been 2 recent developments on the network front, both of which occurred on July 18. The first is that Clearwire and China Mobile (NYSE:CHL) have signed a memorandum of understanding to advance their plans for global TD-LTE roaming. We feel that investors are under-appreciating the future significance of this. As the largest mobile market in the world, China has a great deal of potential, and Clearwire will have a role to play in that. We expect more color on the collaboration with China Mobile on Clearwire's earnings call.
The second development is closer to home, but even more positive. Sprint (NYSE:S), which spoke at a Wells Fargo conference alongside Clearwire today, stated that the two companies will use Clearwire's LTE network to augment Sprint's. Instead of blanketing the nation with a second LTE network (alongside Sprint's), the two companies will beef up coverage in critical areas. Thirty percent of Sprint's network sites generate 70% of its network traffic. Sprint does not have the spectrum to compete with AT&T (NYSE:T) and Verizon on its own, and it needs Clearwire's network. Iyad Tarazi, Sprint's vice president of network development & engineering, has said that Clearwire's network will essentially replace WiFi offloading as a network management tool, due to the capacity that Clearwire brings to the table.
This newest development between Sprint and Clearwire highlights that both companies need each other. We, however, think that in the long-term, it is Sprint that will need Clearwire more. Clearwire, due to its vast spectrum holdings, has enough spectrum to accommodate both Sprint and other wholesale customers. After all, Clearwire is the largest single holder of spectrum in the country.
(click images to enlarge)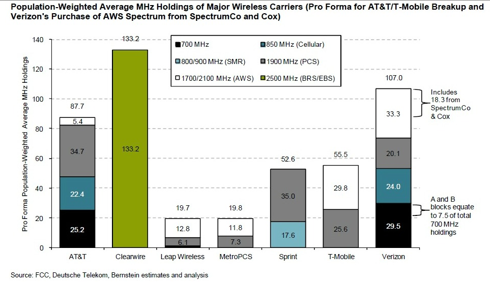 Sprint, however, simply does not have the spectrum needed to compete with AT&T and Verizon on its own. And the company does not have the financial capacity to acquire the necessary amount of spectrum outright (we have received many messages suggesting that Sprint needs to buy Clearwire. That, however, is an issue for another article, as such a deal would have many moving parts). Going forward, we expect more collaboration between Sprint and Clearwire.
Earnings Preview: It Will be a Very Interesting Conference Call
Clearwire is set to report earnings on July 26, after the markets have closed. The consensus estimate (from Reuters) calls for a loss of 61 cents per share.

Perhaps more importantly, that estimate has gone up in recent months, in a reversal of the cuts seen in the first part of 2012.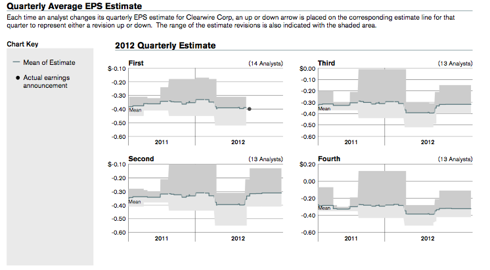 We will be listening closely to Clearwire's conference call, and hoping that the company addresses the following issues:
1. Liquidity: Clearwire ended the first quarter with $1.432508 billion in cash & investments. And although Clearwire did post positive operating cash flow in the first quarter, much of that was due to deferred revenues. However, Clearwire's cash burn is narrowing alongside its losses, and assuming that the company can continue on its existing trajectory, it will likely become cash flow positive in 2013.
From a cash flow perspective, Clearwire's losses are not as extreme as they seem. In the first quarter, Clearwire's net loss was $561.026 million. But of that, $317.029 million was due to non-cash charges, such as depreciation and losses on its WiMax network. As Clearwire's "core" net loss narrows, its cash flows will improve alongside it (for the record, we are not saying that depreciation and non-cash charges should be excluded from loss calculations, but that the non-cash nature of those charges means that investors should not use Clearwire's headline net loss to gauge the company's cash position).
On the conference call, we would like to hear the company's opinion on its liquidity, as well as more color on the timing of Sprint's prepayments. In addition, we want to hear about Clearwire's plans (as well as its ability) to raise more capital. Does management see a need for more capital to build out the LTE network? And if so, where will capital come from?
2. The State of the Wholesale Market: Clearwire's last major wholesale deal was with Leap Wireless (LEAP) back in March, and it is deals of that nature that will allow Clearwire to diversify away from Sprint. In our view, the state of the wireless market is positive for Clearwire at this point in time. With AT&T and Verizon buying up vast swaths of spectrum, smaller carriers, such as Leap, will have a more difficult time competing. Enter Clearwire. The company's spectrum holdings allow it to assist smaller carriers in competing against AT&T and Verizon.
What is management's view of the wholesale market today? Is the company going to sign more deals? On the Q1 earnings call, Clearwire's management explicitly stated that their favored method for raising capital is wholesale revenues. Given the focus on that, what sort of progress is there on striking more deals? We see any number of possible deals, with companies such as MetroPCS (PCS) or U.S. Cellular (NYSE:USM). We would like more color on what Clearwire is doing to expand the wholesale business.
3. Spectrum Monetization: This is the final, and biggest issue that we want Clearwire to address, and it is the source of most investor concern/optimism when it comes to Clearwire, at least from the messages that we have received regarding this company. Clearwire has been very cagey when it comes to its spectrum plans.
This issue was brought up on the last conference call, and although CEO Erik Prusch deflected the question well, we would still prefer an answer. Credit Suisse framed the question in a great way, pointing out that although there are carriers that would "love to buy spectrum from you [Clearwire] today, if they can't get it from you they'll go with -- they may be forced to go with a less attractive choice, buying spectrum from Verizon." And although that question was meant for CFO Hope Cochran, Erik Prusch stepped in to give the CEO perspective. He argued that there simply isn't enough spectrum outside of Clearwire to solve the industry's needs. And he said that, although the company is aware of the dynamics in the spectrum market, they don't see a viable threat at this point.
While we agree in principle with that line of thinking, we would like to see Clearwire provide another answer to the spectrum question. Many investors are concerned that Clearwire will be unable to sell its spectrum if the company were to suddenly have a need for capital. While we do not share that view, other investors do, and Clearwire needs to address those concerns.
For the record, we do not think that an outright spectrum sale at this point in time is the best thing for Clearwire. Spectrum is becoming more and more valuable each year (putting aside scientific and technical arguments for/against Clearwire's 2.5 GhZ spectrum), and Clearwire has the most spectrum in the country. Could it be appropriate to sell spectrum in the future? Possibly. But right now, we feel that Clearwire should be focusing elsewhere. The company should not sell spectrum because it needs to raise capital. That would be selling from a position of weakness. The company should be selling spectrum from a position of strength, when it is selling because other wireless companies need it, and are willing to pay a premium for it. Clearwire needs to soothe investors' nerves regarding this issue, and the company's comments regarding spectrum are what we will be listening to most closely.
Clearwire's stock has historically traded up and down based on what management says, and often, comments are misconstrued, either positively or negatively. We hope that the company is aware of that fact, and is as clear as possible on the conference call.
A Word Regarding Bankruptcy
As Clearwire's stock continues to decline, speculation about bankruptcy has risen alongside it. In our view, this sort of speculation is unwarranted. Clearwire has well over a billion dollars in cash and investments, and the majority of its debt (over $3.2 billion) is due in 2015 and 2016. Its $500 million in second-priority notes are due in 2017, and the company's exchangeable notes (about $600 million) are due in 2040. Debt will not be an issue for several years, and by 2015, Clearwire should be in much stronger financial shape.
It is important not to forget the role of Sprint. Sprint needs Clearwire to compete against AT&T and Verizon, and that is unlikely to change anytime soon. A Clearwire bankruptcy would plunge Sprint into chaos, as what would happen with its contracts with Clearwire would be unclear, for Clearwire's spectrum would be seized by its bondholders. Sprint has shown that it is committed to assisting Clearwire when the company needs financing, and given how important Clearwire is to Sprint, we expect Sprint to be there for the company until it becomes financially independent.
In any case, bankruptcy would result in the sale of Clearwire's spectrum. Bondholders will receive only the first $4.2 billion in proceeds to pay of Clearwire's debt. Then, the remaining proceeds would be distributed to Clearwire's Class A and Class B stockholders. Clearwire's spectrum is housed in Clearwire Communications, of which Clearwire holds a 33% economic interest in (a previous article we published on Clearwire explains the ownership structure in detail). The other 67% is held by Sprint and other investors, because they hold one unit of Clearwire Communications for each share of Class B stock. However, Class B stock (of Clearwire Corporation) has no liquidation rights, whereas Class A stock does. Therefore, Clearwire's Class A investors would receive 33% of any remaining spectrum sale proceeds after bondholders have been paid off.
Clearwire owns 46.6 billion MHz-POP's of spectrum, and the company's leases are fully transferable, according to the latest 10-K. For the record, 41% of Clearwire's spectrum is owned outright, and the company has the right of first refusal to renew its leases when they expire (lease terms extend up to 30 years). A sale of those leases would be subject to the same FCC conditions as a sale of spectrum that is owned outright.
Even applying a conservative discount to recent market rates for spectrum sales yields value for Clearwire's stockholders, this article on the technical aspects of Clearwire's spectrum should ease concerns about its quality. Our article on Clearwire's structure (linked to above) provides a liquidation analysis. We assumed that all Class B shares would be converted to Class A shares, which from an accounting basis, is equivalent to Clearwire's existing Class A investors simply receiving their 33% share of the liquidation proceeds. Because the company's bylaws state that one Class B share and one Clearwire Communications unit are needed to convert to a Class A share, the dilution created at the A-level is offset by Clearwire gaining a 100% economic interest in Clearwire Communications. The result is either that a smaller set of investors have 33% of the pie, or that a larger group has 100% of the pie. Class B investors will get 67% of spectrum proceeds in either case. The only question at what point in the liquidation process that would occur.
Conclusions
Clearwire is a company that is misunderstood by many investors. We, however, continue to see value here. The company's stock has dropped for reasons that are unclear, but we remain confident in its long-term potential. The upcoming earnings release and conference call should yield insight into where Clearwire is going, and we look forward to hearing what management has to say. We added to our position in Clearwire over the past few days, and continue to believe that this company's best days are ahead.
Disclosure: I am long CLWR.