When Google (NASDAQ:GOOG) announces its quarterly earnings on Thursday this week, the results, for the first time, will reflect Google's recent acquisition of Motorola's mobile phone business. Now Google will be designing and manufacturing cell phones to compete directly with Apple's (NASDAQ:AAPL) iPhone in the global marketplace.
For many investors, primary concerns center on what will be the financial impact and how they should value Google's share price going forward.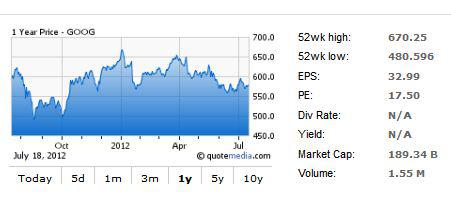 In May, Google announced the completion of it's $12.5 billion dollar deal to buy Motorola's cell phone business. The purchase, by far the largest in Google's history, will bring a new hardware business for cell phones, tablets, cable set-top boxes to Google. The acquisition will also add about 17,000 employees to Google's payroll, increasing its total employees by over 50%.
During the first quarter 2012, Google delivered about $2.9 billion dollars in net income on $10.9 billion dollars of revenue. Motorola Mobility, on the other hand, lost about $89 million dollars on $3.1 billion dollars in revenue during its first quarter of 2012.
Clearly, the Motorola acquisition is NOT likely to have a positive impact on Google's earnings this quarter and will almost certainly reduce Google's profit margin.
I believe the key issue will be whether the company can make investors feel positive about the Motorola acquisition. The company needs to show how the acquisition will create exciting new opportunities for Google as well as greater earnings growth over the next 3 to 5 years.
Certainly, the deal has brought in an estimated 17,000 patents, which will help Google defend itself against future lawsuits affecting its Android software. In addition, Google will probably announce the sale of around 5-6 million smartphones during this quarter. With Apple's mobile phone sales greater than 30 million last quarter, it is unlikely that these facts alone will help convince investors of the wisdom of the Motorola purchase.
I suspect that investors will be not willing to wait on a strategy that appears to have more questions than answers. If the business case for Google's acquisition is not clear and greeted with some investor enthusiasm on Thursday, look for a Google share price to decline on Friday following the earnings announcement.
Disclosure: I am long AAPL.
Additional disclosure: I have no positions in Google (GOOG) at this time