Liberty Media (LMCA) has announced that its plans to take control of Sirius XM (NASDAQ:SIRI) will eventually lead to a Reverse Morris Trust (RMT). For those who are not familiar with a RMT, I will break it down.
First the parent company creates a separate external company (we'll call it LMCA-b). Next the parent company sells off the asset and at the same time merges the spin-off with the separate external company (LMCA-b). Then the new and separate merged company (we'll call it SIRI Holdings) distributes its shares back to the parents company's shareholders .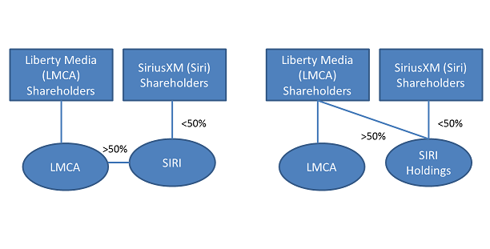 The figure on the left is what the entities would look like immediately before the RMT and the figure on the left immediately after. The only difference is that after the RMT, the Liberty Media shareholders have direct control of the new entity' ('SIRI Holdings') shares whereas before they only controlled Sirius XM through Liberty Media.
Because Liberty Media is not outright selling its asset but spinning off its investment and merging it with a new company, it gets to avoid paying taxes on its gains on investment. This can only be done if the parent company has over 50% control of the subsidiary , which is why Liberty Media has been looking to boost its ownership over that 50% mark.
Currently Liberty Media shareholders cannot sell their partial ownership of SIRI because it is a minority investment (<50%) of Liberty Media's. Liberty Media acquired 40% ownership back in 2009 of Sirius XM in return for a loan to bail them out. That 40% is preferred shares which have not been part of the float ever since Liberty originally acquired them.
If Liberty eventually acquires 50.1% of SIRI, and performs a RMT, Liberty shareholders will get shares distributed from the new merged company (SIRI Holdings) in the amount of 50.1% per share of Liberty Media they currently own. Liberty Media shareholders would then get to decide what they would want to do with their new 'Siri Holdings' shares.
This would essentially flood the market with LMCA's 40% preferred shares AND the remaining 10.1% acquired SIRI shares. Sirius XM currently has about 3.8 billion common shares (60%) and 2.5 billion preferred shares (Liberty's 40%) (taken from Yahoo Finance). The 40% has never been part of the float of Sirius XM because they have always been preferred shares owned by Liberty Media the company and not Liberty Media's shareholders.
As previously stated, after the RMT, 50.1% per share LMCA of SIRI will be distributed to LMCA shareholders and they will then be able to decide whether to buy, sell, or hold. If we assume that the same percentage of these distributed shares will become floating shares as the percentage of Liberty Media's current float, then 2.83 billion shares will be added to the 'Sirius Holding' float after completing the RMT. The calculation of that is as follows:
LMCA has 108.51MM floating shares out of 120.74MM total shares (taken from Yahoo Finance). That means 89.8% or(108.51MM/120.74MM=89.8%) of their shares are freely tradeable.

LMCA will most likely need to acquire 50.1% of Sirius XM to perform the RMT and therefore LMCA shareholders will get 50.1% of a 'SIRI Holdings' share per share owned of LMCA

3.8 B common shares + 2.5 B preferred shares = 6.3 B shares (also explained above) will be outstanding after Liberty Media converts the preferred shares to common shares
Therefore take 89.8% x 50.1% x 6.3B = 2.83B floating shares.
This is a big deal because currently Sirius XM has 3.34B floating shares. With a flood of 2.83B shares hitting the market there may likely be a strong movement for Liberty Media shareholders to sell off their position in Sirius XM.
It can and will be argued that these new shares that will hit the market are already taken into account for the market cap, float etc. However, I know that If I were distributed shares of 'Sirius Holdings' then I would give some serious thought to selling them in the open market.
Summary: I have been a longtime investor of Sirius XM, from a high of $7.09 to a low of a nickel to the current price of around $2.10. I am currently long SIRI with $2.50 September calls. I think that my time as an investor of Sirius XM will come to a close within the next couple of months. There is too much uncertainty out there as to what will happen with Liberty Media and Sirius and the Reverse Morris Trust and I don't want to get burned again (as many of us have).
Disclosure: I am long SIRI.