The variety of comments on my Friday, April 18 article (see "E*Trade: Primed To Turn Around?") have prompted me to provide additional stock price analysis and share trading volume analysis.
Stock Price Analysis
The chart below shows a selection of well-known banking, mortgage, and brokerage stocks. Predictably, Bear Stearns (NYSE:BSC) has experienced the worst price decline (-91%) since October 2007. With subprime mortgage exposure, one would think that the major mortgage companies like Countrywide Financial (CFC) and Washington Mutual (NYSE:WM) would be next in line under Bear Stearns.
That is how it should be, except at this point in time E*Trade Financial (NASDAQ:ETFC) is in that second row position. E*Trade is still suffering from the impact of negative analyst comments. The worst impact being when Citigroup Analyst Prashat Bhatia irresponsibly used phrases like "Bankruptcy risk cannot be ruled out" and "If customers rush to withdraw their money" in his November 12, 2007 downgrade of E*Trade's stock price to $7.50. Within days, E*Trade customers had "rushed and withdrawn their money" as $30 billion of client deposits were removed and deposited at brokerages like Charles Schwab (NYSE:SCHW) and TD Ameritrade (NASDAQ:AMTD).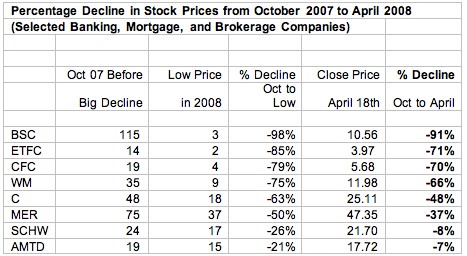 What row should E*Trade be on? What is a fair E*Trade stock price in the lineup of Banking, Mortgage, and Brokerage Companies? E*Trade's primary business is brokerage of global online trading. E*Trade's mortgage involvement is much less in magnitude than Countrywide and Washington Mutual. Also, my understanding is that the loan portfolio at E*Trade has average FICO scores above 700. Countrywide and Washington Mutual would not have that same caliber of borrower FICO scores in their portfolios. Therefore, a market price above Countrywide's (CFC) $5.68 is justifiable. A market price above Washington Mutual's (WM) $11.98 does not seem unreasonable, especially if you look into the future earnings projections for Washington Mutual and see that future quarterly EPS is red … red … red … and more red! A market price above Bear Stearns (BSC) $10.56 is also reasonable since E*Trade has a valuable customer base and trading platform.
One thing is certain: E*Trade's $4 price is not justifiable nor reasonable. Also, a word of caution to Ameritrade and Schwab investors. Those brokerages will quite likely suffer earnings setbacks in future quarters as E*Trade regains a portion of it's customers back. The offset of ETFC's upside potential is definitely a downside to AMTD and SCHW.
Trading Volume Analysis
What happened with trading volume on Friday, April 18? Bear Stearn's volume was flat and Washington Mutual's volume was down 11% from the 10-day average. Countrywide's volume was up 25%. E*Trade's volume was up 142% with 58 million shares traded when the 10-day average was 24 million shares per day (initial Friday startup volume accounted for only 5 million shares). Double "trading volume" with an opening price Friday of $4.05 and Closing Price of $3.97. A lot of shares changed hands. Who sold? Who bought? Institutions? Small investors? Large investors?
My feeling is that small investors sold out, especially in the middle of the day when the price "finally" went back above $4; after all, the company missed the "Analyst's" earnings projections and Prashat Bhatia was again making irrational negative predictions and inaccurate comments--and Marketwatch was putting them in print. With that level of share volume and such a small daily fluctuation in share price, you can bet the buyers were not small guys.
As Friday trading went on, the institutions and large investors just kept accumulating quantities at a price they know will soon be very historical. For example, some comments regarding last November indicate that Citigroup increased their position in E*Trade stock over 600% in the 4th Quarter of 2007; "even though" their own analyst had downgraded the stock with the word "bankruptcy" attached; others feel that Citigroup increased their position "because" their own analyst downgraded it with the word "bankruptcy" attached.
Summary
The bottom line is that E*Trade's April 17, 2008 conference call presented factual data documenting survival, recovery, and a positive future. They do have a mortgage portfolio to manage through the current economic recession and the current subprime crisis; but it is being wisely managed. E*Trade did not have to announce a layoff program. The management that caused E*Trade's problems in 2007 is gone, and new management is executing a successful "turn around" plan. Most importantly, the "bankruptcy" word no longer applies to E*Trade; Citadel infused $2.5 billion of cash and is a 20% common stock shareholder. I reiterate bankruptcy will not happen.
I have always loved a good story. E*Trade's stock will become the "Cinderella 'Stock' Story" for 2008. From the "Ashes" that remained after Bhatia's November comments caused a destructive inferno to a position of high respect and honor in the "Grand Ballroom of Brokerage Firms" as one of the top "electronic global trading platforms" in the world. Time will tell . . . may we all live "happily ever after."
Disclosure: I hold a long position in ETFC.