"It is a habit of mankind to entrust to careless hope what they long for, and to use sovereign reason to thrust aside what they do not fancy."
--Thucydides, Greece, c. 460 B.C - 395 B.C.
And so it has been for the stock market over the last several years. The global economy is still struggling to overcome the financial crisis that exploded all the way back in 2008. Growth in the United States and Asia continues to slow worryingly back toward recession. The situation in Europe also remains on the brink of crisis, as the latest of many efforts to finally start diffusing the problem once again proved woefully inadequate. And as we begin through the heart of the latest earnings season, corporations are still operating at peak profit margins with little scope to maintain, much less sustainably increase, earnings given the global backdrop.
Such are usually the conditions that lead to a sustained stock correction, particularly in a market that has rallied so swiftly from its October 2011 lows. But stock investors today do not fancy such concerns. Instead, they continue to opt for the hope that the stock market will continue higher on the euphoria of more policy support. But a dependency on such hope is careless, for harsh reality must eventually rear its ugly head. And the next several months promise to put such careless hope to the test once again.
So where do we stand today? Over the last four trading days ended Wednesday, the stock market has rallied sharply. After touching a low at the 1325 support level on the S&P 500 last Thursday, stocks have jumped by +3.6%. The advance has been impressive, particularly given the fact that economic news remains lackluster at best, the Fed has been reserved about suggesting any further QE policy support and more revelations have emerged to raise additional questions about the integrity of the financial system.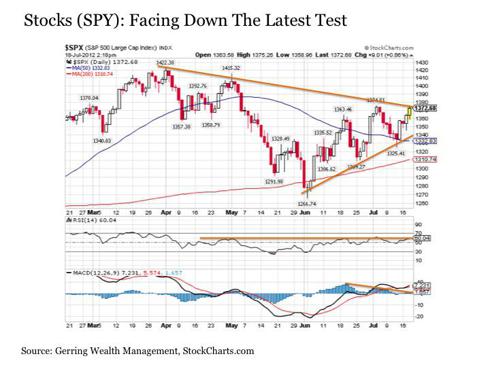 Click to enlarge
Following this latest hope rally, stocks have arrived at a critical battle line in working to continue their move higher. At around 1370 on the S&P 500, stocks have run into the downward sloping trend line dating back to its early April 2012 peak. From a technical perspective, the Relative Strength Index on stocks has reached 60, which is not overbought by any means but has been the reading at which stocks have reached an interim peak during each of the previous three short-term rallies since the market peak at the end of April, the middle of June and the end of June. And stocks have arrived at this resistance a fourth time with increasingly deteriorating momentum divergence. None of this is to say that stocks cannot rally higher from current levels, as we continue to live in a market that can often defy all logic, but all of these indicators suggest that the market will have its work cut out for it in the coming days to do so.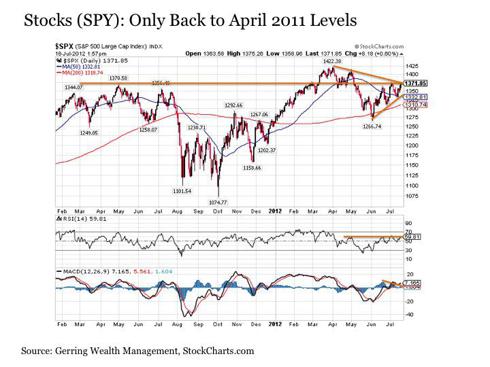 Click to enlarge
What is perhaps more notable is the long trip we have endured in stocks over the last 15 months to simply arrive back where we started. On May 2, 2011, the stock market reached a post crisis high of 1370 on the S&P 500. Following that peak, the stock market went on to decline by -22% through the beginning of October 2011. After bottoming, stocks subsequently went on to rally and reach a fresh new post crisis high of 1422 on April 2, 2012, representing a peak-to-peak price advance of just +3.8%. And stocks have been locked in a downtrend ever since including quickly dipping back below this previous 1370 peak. Overall, stocks have closed above 1370 on only 37 trading days out of the last 307 since this May 2011 peak.
This longer-term view on the stock market raises an important point. The notion that monetary policy support will endlessly lift stock prices higher is increasingly falling apart. For example, despite all of the monetary policy acrobatics that have occurred over the last 15 months including two rounds of Operation Twist from the U.S. Federal Reserve and a commitment to keep interest rates locked at 0% through the end of 2014, a massive balance sheet expansion by the European Central Bank through the LTRO program as well as recent rate cuts, and more quantitative easing from other global central banks including the Bank of England and the Bank of Japan, all we have to show for it is an economy that is decelerating, a crisis that remains unresolved in Europe and a stock market that is only back to where it started more than a year ago.
What does this mean for investor sentiment going forward? It is understandable that stocks are clinging to the careless hope for more QE. After all, such policy support is pretty much all the market has left. And we can already assume that if the Fed does not deliver QE3 at its July 31-August 1 meeting, the talking heads will immediately start pointing to Jackson Hole as the next stop for the QE hope train, no matter that past QE programs have failed to support a sustained economic recovery. But imbedded in this desperate hope is a critically important question. What happens if the Fed actually delivers more QE to the market, but stocks do not go up? Worse yet, what happens if the Fed launches QE3 and the stock market continues to go down?
"In peace and prosperity, states and individuals have better sentiments, because they do not find themselves suddenly confronted with imperious necessities; but war takes away the easy supply of daily wants, and so proves a rough master that brings most men's characters to a level with their fortunes."

--Thucydides
If the peaceful prosperity of monetary stimulus gives way to the chaos and disruption of a market that is forced to accept economic realities, the outcome and wealth destruction associated with coming back to reality could prove most painful for stock investors.
Recent precedence increasingly supports the notion that future policy measures such as QE3 could disappoint. On July 5, both the European Central Bank and the People's Bank of China cut interest rates while the Bank of England increased its own QE program by 50 pounds. And after all of this global stimulus was served up, U.S. stocks went on to drop by -3% over the next six trading days and are still below July 5 levels through today even after the recent rally.
Such is the danger of the Fed taking action sooner rather than later. QE3 is effectively the last remaining bullet in the Fed's monetary chamber. If they fire it too soon, as I would contend they did previously with QE2, they run the risk of leaving themselves without policy flexibility in the event of a full blown crisis erupting in Europe.
Worse yet for the Fed, evidence is growing that even balance sheet expanding monetary policy action is having a diminishing impact on the economy and markets. One advantage the Fed has in holding QE3 back is the "ease tease". In other words, as long as the Fed can dangle out the hope for QE3, stocks can rally. But once the market actually has QE3, it better work. For if stocks finally get the monetary stimulus for which it is so longing and they subsequently fall, the last vestige of careless hope will also disappear. And this is where a real sustained stock market correction could get underway.
The risks of failure that QE3 can no longer sustainably prop up the economy and markets are rising with each passing day. The global economy is already decelerating and is likely to slow further. Not only is the situation in Europe continuing to deteriorate, but the United States is also drifting toward its own crisis with the fiscal cliff looming at the end of 2012. If no action is taken, the expiration of various tax cuts and spending programs threaten to lop 3.5% off of U.S. GDP and send the economy into recession. Such uncertainties promise to weigh heavily with investors in the coming months.
In regards to the fiscal cliff, we are unfortunately not likely to see any progress in resolving the issue until at least mid November once the Presidential election is completed. This lack of action brings added uncertainty, particularly for those investors that need to determine whether they need to lock in capital gains or reallocate out of dividend paying stocks before their tax rates potentially go up starting on January 1, 2013. And even if the notion is embraced that politicians in Washington will simply extend the current policies into next year to give more time for the next Congress and current/new Presidential administration more time to resolve the situation, such a solution only prolongs the regulatory uncertainty that is already causing so many companies to delay spending decisions. Thus, the more this drags out, the longer companies will forgo spending, the more pronounced the drag on the economy in the end.
For all of these reasons, the stock market faces a challenging environment to navigate through the remainder of the year. This is not to say that it cannot continue to defy logic and continue to rise. But such a task is becoming increasingly tall with each passing day, even with the support of more QE.
Maintaining a hedged approach in investment portfolios remains as prudent as ever in such an environment. A stock allocation should be maintained, but it should be held in proportion with other asset classes and positions should emphasize only the highest quality and lowest volatility names. Examples include Microsoft (NASDAQ:MSFT), ExxonMobil (NYSE:XOM), IBM (NYSE:IBM), McDonald's (NYSE:MCD), Procter & Gamble (NYSE:PG), Nike (NYSE:NKE) and Hormel Foods (NYSE:HRL). Keeping a watchful eye as we progress through earnings season may be particularly worthwhile in picking up selected high quality names that are sold off sharply following their earnings reports.
But the best investment opportunities continue to reside outside of the stock market. Focusing on those asset classes that continue to rise regardless of the direction of the stock market remains rewarding. Included among these are Agency MBS (NYSEARCA:MBB), U.S. TIPS (NYSEARCA:TIP) and Build America Bonds (NYSEARCA:BAB). And holding positions that are negatively correlated to stocks such as Long-Term U.S. Treasuries (NYSEARCA:TLT) is still worthwhile even with yields near historically low levels, as they have shown the propensity to rise sharply when stocks cascade lower.
And allocations to gold (NYSEARCA:GLD) and silver (NYSEARCA:SLV) remain important despite their recent lackluster results. The risk for full-blown crisis continues to loom large, which is supportive of gold and silver prices given their safe haven status. And if the Fed finally relents and delivers QE, both gold and silver are likely to vastly outperform stocks, as both metals are not priced for such an outcome whereas stocks are already eagerly anticipating it. Lastly, if the Fed opts to withhold QE, the potential for a severe tantrum by stock investors would likely induce investors toward the safety of gold and silver until the Fed relents with more stimulus. The decision of how to allocate to gold and silver should be considered carefully, however. This is a topic I will be revisiting in an upcoming article.
Careless hope can provide a blissful way to participate in investment markets for a period of time. But the things we do not fancy eventually must be reconciled. And the longer we chose hope over reality, the more painful the experience will be once we are forced to acquiesce.
Disclosure: I am long MCD, NKE, PG, HRL, TLT, TIP, MBB, BAB, GLD, SLV.
Disclaimer: This post is for information purposes only. There are risks involved with investing including loss of principal. Gerring Wealth Management (GWM) makes no explicit or implicit guarantee with respect to performance or the outcome of any investment or projections made by GWM. There is no guarantee that the goals of the strategies discussed by GWM will be met.