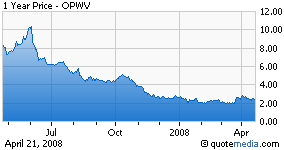 Openwave (OPWV) this morning warned that first quarter revenue would be $58 million, below the Street consensus of $63.9 million. The company blamed the shortfall on "a reduction in maintenance and support revenue." Openwave expects to report a non-GAAP loss for the quarter of 4 cents a share; the Street had been looking for a loss of 3 cents.
Openwave also announced that CEO Robert Vrij resigned effective April 16. The company gave no explanation for his departure. The company named Bruce Coleman as interim CEO. Coleman is CEO of El Salto Advisors, which it described in the 8-K disclosing the news as "a consulting firm which provides interim executive management to software and service companies." Coleman will be paid an annual salary of $540,000, a bonus of up to $360,000 and will be granted options to purchase 250,000 shares. The options vest over a 12-month period.
The company also hired Spencer Stuart to search for a permanent CEO.
OPWV today is off 19 cents, or 7.8%, at $2.24.