We were reminded of why we like IBM while we analyzed its 2Q 2012 earnings results and listened to its conference call. IBM has an attractive combination of growth potential, stellar execution, visibility, free cash flow, shareholder friendly capital policies and a low valuation. We admit that we sold our IBM position before the earnings season when we reduced risk across our portfolio and cut exposure in the technology and financials sectors.
Now that the company has announced its 2Q results, we are considering adding the stock back into our portfolio (we did the same with Intel Corporation (NASDAQ:INTC); see our analysis on Intel here). In this update, we will analyze IBM's 2Q earnings results using our six-question checklist and discuss our strategy for IBM going forward.
Did the Company Beat Expectations, and Have Expectations Been Rising/Declining?
IBM generated 2Q 2012 revenue of $25.8 billion, down 3% from 2Q 2011. Non-GAAP diluted EPS was $3.51, up from $3.09 in 2Q 2012. IBM's results fell short of analyst estimates on the top-line, but beat on the bottom line. According to Reuters estimates (via Capital IQ), analysts estimates called for revenue of $26.3 billion and EPS of $3.43.
IBM said currency changes impacted its revenue by $1 billion. However, it is unclear how much of this was factored into analyst estimates. Analyst estimates were relatively unchanged over the last few months. Importantly, IBM raised its FY 2012 EPS guidance to $15.10 from $15.00.
What Drove the Results?
IBM 2Q 2012 earnings material can be found here. The following chart summarizes the results:
Click to enlarge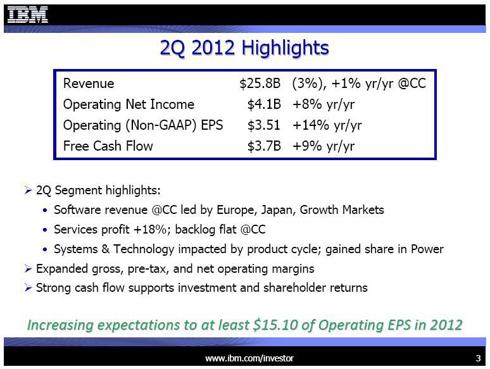 Click to enlarge
Source: IBM 2Q 2012 earnings material
We would like to highlight a few items. Revenue was disappointing. Investors may focus on the EPS beat and increased EPS guidance for FY 2012, but it is important to remember that IBM has a lot of control over the EPS figure through its share buyback program. Therefore, revenue is a better indicator of customer demand and the business environment than EPS. However, IBM's ability to use its share buyback program to make up for disappointing revenue is one of the reasons that we like the company from an investment standpoint.
Although revenue was down 3% compared to 2Q 2011, revenue on a constant currency basis was up 1%. IBM generated 43% of revenue in the Americas and 31% in EMEA, but these markets were largely flat. However, the Asia Pacific region and especially growth markets, including the BRIC countries, compensated, in part, for the sluggish performance elsewhere. Interestingly, IBM said that its China business was up 24%.
The following chart displays the revenue breakdown for the company: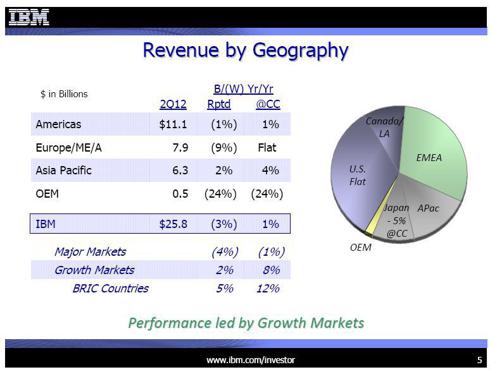 Click to enlarge
Source: IBM 2Q 2012 earnings material
Operating gross margin was 48.2% in 2Q 2012 and increased 1.5 pts on a year-over-year basis. Despite the somewhat weak revenue number and the challenging macro environment, it is impressive that IBM was able to increase its gross margin in 2Q. The increase in gross margin demonstrates IBM's strong execution capabilities. The following chart breaks down the gross margin figure: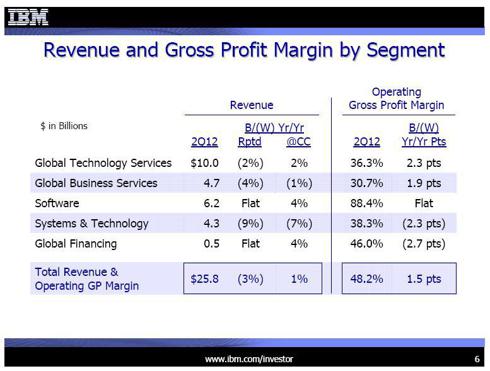 Click to enlarge
Source: IBM 2Q 2012 earnings material
Please see the earnings material for more information on the business units.
The following chart shows the EPS bridge between 2Q 2011 and 2Q 2012. Share buybacks account for much of the EPS increase.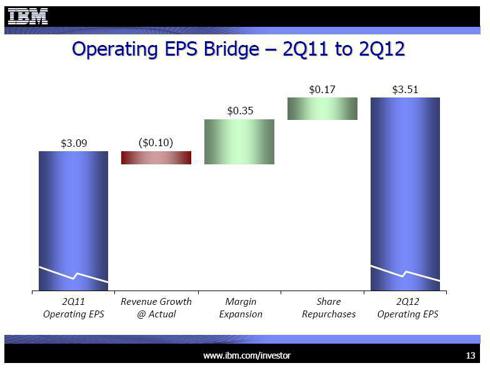 Click to enlarge
Source: IBM 2Q 2012 earnings material
What Are the Implications for the General Economy?
It is interesting to compare the commentary from IBM and Intel about their 2Q results and outlook for the rest of the year. As we wrote about Intel's 2Q earnings, Intel was concerned about the macro environment and cut its guidance going forward.
IBM's outlook was more positive. While it recognized the challenging environment in its major markets, it seemed more optimistic about 2H 2012. IBM's increase in guidance is a good indication of its confidence in the outlook for the rest of the year.
What Is the Guidance Going Forward?
IBM increased its FY 2012 EPS guidance to $15.10 from $15.00. The new FY 2012 EPS target represents 12% growth over 2011 (2011 EPS grew 15%).
The company previously presented its long-term EPS guidance, which calls for EPS of over $20.00 in 2015. This target implies a 9.8% CAGR from 2012 to 2015. We expect that IBM may raise its 2015 EPS estimate well beforehand.
According to Reuters (via Capital IQ), analysts are estimating 2012 EPS of $15.02. Considering the new guidance from the company, analysts will likely revise up their estimates.
How Did the Stock Perform Going Into Earnings?
IBM has been in an uptrend since the 2009 market bottom, but recently experienced a correction. Since peaking at approximately $210 per share in early April, IBM's stock declined approximately 10% and closed at $188.25 per share before the earnings announcement.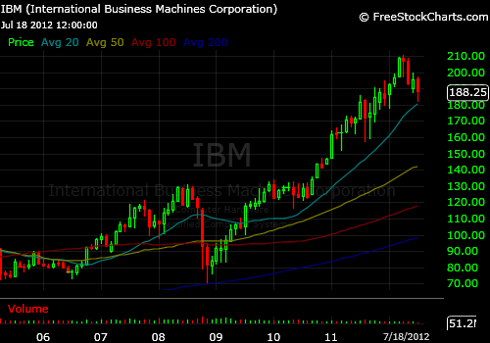 Click to enlarge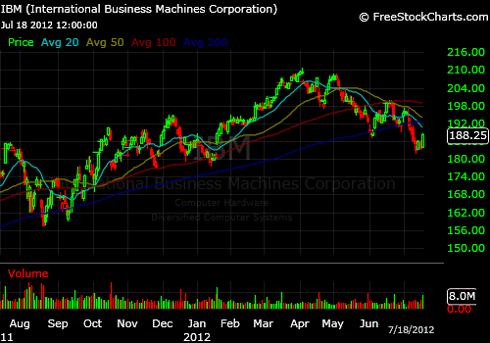 Click to enlarge
Source: FreeStockCharts.com
What Is the Market's Reaction to the Results?
IBM's stock price increased approximately 2.8% in after-hours trading, following the earnings announcement. In regular trading before the earnings announcement, the stock was up 2.5%. The initial reaction to the results was positive, but, like always, we want to see if the initial move is confirmed over the next few days.
Conclusions
IBM's stock has had a nice run since 2009 and this 10% correction may present a buying opportunity. Although 2Q 2012 revenue disappointed, IBM beat EPS estimates and raised guidance. IBM has a lot of visibility into its business due to its software and services businesses. Furthermore, IBM consistently buys back large amounts of stock, which helps it hit its EPS numbers.
IBM is a big company with some legacy businesses. However, it also has some exciting, high growth software and solutions platforms, such as Business Analytics, Cloud and Smart Planet as well as increasing exposure to emerging markets. IBM seems to be in a good operating position going forward.
With a stock price of $188.25 per share, IBM is trading at 12.5x its FY 2012 EPS guidance. Considering that EPS is projected to grow 12% this year and will likely grow in the 10%-15% going forward, the current valuation may be cheap. In addition, IBM's dividend yield is 1.8%.
We are considering getting back into the stock if it stays above $180 per share. However, it may take time before we see new highs as the recent declines may be followed by sideways trading before another strong uptrend. If we get back into the stock, we will set a stop below the recent lows to limit losses if we are wrong.
The main risk seems to be the macro environment. There are enough macro issues that could push the market into another Risk Off trade. Broad declines would likely drag down IBM as well. Additionally, if the weak macro environment persists, then IBM may face headwinds in its mature markets, which could limit growth in the near term.
Disclosure: I have no positions in any stocks mentioned, but may initiate a long position in IBM, INTC over the next 72 hours.