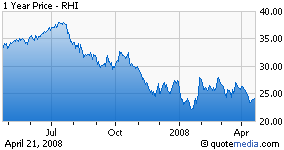 Robert Half International (NYSE:RHI)is the largest provider of temporary personnel in fields specific to finance and accounting. They also provide staffing for clerical, administrative, legal, paralegal and information technology [IT] needs. At year-end 2007 they had 360 offices in 42 American states as well as 18 foreign countries. Non-U.S. revenues were about 25% of their total sales. In 2007 RHI employed about 15,300 full-time and placed 257,000 temps with client firms.
Last year saw all-time record levels in corporate revenues, cash flow, net earnings, dividends and book value. Despite the slow U.S. economy analysts predict another record year for 2008. Here are summary* [per share] numbers for their past five years:

Click to enlarge
* Source Value Line ** Value Line estimates for 2008
A relatively new business unit of RHI called Protiviti helps customers navigate through the complexities of Sarbanes-Oxley and figures to be a growth vehicle for Robert Half.
Despite all the good historical numbers of the past five years Robert Half shares have been cut by almost half since hitting a peak of $43.90 in early 2006. This seems to be a function of both stock market turmoil and extreme pessimism regarding the recessionary conditions prevalent in the U.S. right now.
It should be noted that a large competitor, Manpower [NYSE:MAN], had fared similarly dropping from $97.28 last July to a January 2008 low of $45.70. Manpower reported better than expected earnings on April 18th and its shares jumped up $7.43 or + 12.78% on the news. The expectations are so low now for these companies that any sign of good news can send them rocketing higher quickly. Earnings for the March quarter are due to be released on April 22.
Robert Half has a great balance sheet. Value Line rates their financial strength an 'A' and notes their long-term debt at year-end 2007 was just $300,000 or less than 1% of capital. They held $310 MM in cash against only $4.2 MM in total debt as of December 31.
RHI shares have typically commanded premium P/Es. In the past 10 years the lowest average annual multiple was last year's 18.7x. The only other time it averaged under 20x was in 1999 when it was 19.2x. Buyers of these shares in 1999 (including me) saw RHI's share price climb from a [split-adjusted] low of $10.20 to $38.60 in about 18 months.
With Value Line and Zack's estimates for 2008 at $1.95 and $1.88 these shares now trade at just 12.9x the lower projection of the two. A return to even 18 times that $1.88 figure leads me to a target price of $33.84 or up 39.7% from Friday's quote. Add in the 1.82% yield and you've got a very nice total return of 40% within 12 months.
Is $33 -$34 a crazy goal? Nope. Robert Half shares have actually traded at peak prices of $39.90 - $43.90 at some point in each year 2005-2006-2007 when EPS were well lower than they figure to be this year. Value Line's 3 – 5 year share price projections go from $65 - $95 on projected earnings by then of $2.90 /share.
Disclosure: Author owns shares and is short puts on RHI.