Corn prices continue to rise as the worst drought in more than 50 years relentlessly batters the Midwest. The ongoing drought has widely destroyed corn and soy crops as entire harvests have been laid waste. With temperatures reaching over 100 degrees Fahrenheit spanning from Chicago, Illinois down to Omaha, Nebraska, the latest statistics show that 55% of the contiguous United States is currently undergoing drought conditions.
The dramatic impact of the weather phenomenon remains far from tallied. With the United States accounting for more than half of all the world exports of corn, the most critically affected markets are in those that utilize corn for the production of starches, ethanol, and animal feeds. Seen in the graph below, ethanol in particular has seen a rapid increase in price according to front month futures contracts.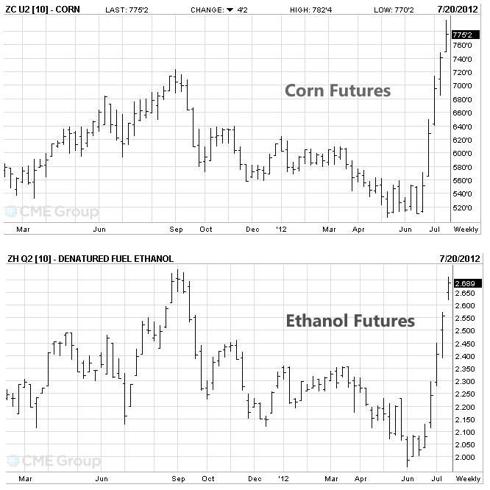 With correlated corn prices surging over 45% in the span of days, America's corn-based ethanol once again has to face the persistent question of sustainability. The extra demand toll of the ethanol industry on the national supply of corn is far too pressing to be overlooked. In 2011, ethanol production in the United States accounted for 40% usage of the nation's corn production.
For companies that have a strong American presence in corn-based ethanol such as Pacific Ethanol (NASDAQ:PEIX) and Archer Daniel Midland (NYSE:ADM), a public relations backlash on domestic ethanol production will be far from productive. But more importantly, the immediate volatility of corn prices themselves are causing havoc throughout the supply chain to these producers. In late June, Valero (VLO) idled several of its large 100-million-gallon-per-year ethanol plants, illustrating the severity of the crisis in the midst of such rapidly rising corn costs.
Yet one company's loss appears to be another's gain. For sugar-based ethanol producers such as those found in Brazil, the ongoing drought has likely only raised profit margins on their production. As Brazil's largest sugar and ethanol producer, Cosan (NYSE:CZZ) is sure to greatly benefit from the ongoing weather conditions in the north. Over the last 4 years Cosan has grown its revenues from 5.97 billion BRL in 2009 to more than 24.10 billion BRL by 2012. Yet its operating income has only increased from a loss of 99 million BRL to a gain of 3.7 billion BRL over the same time period. These rising margins for its bioenergy division are sure to help the bottom line.
The advantageous gain off of suffering corn-based ethanol companies might also be felt in other areas of the biofuel industry. For advanced biofuel producers looking to increase their manufacturing capacity, the forsaken plants of failing ethanol companies could provide discounted pickings for the likes of companies such as Gevo (NASDAQ:GEVO) and Solazyme (SZYM). Both Gevo and Solazyme have the ability to convert fermentation facilities originally used for ethanol production into manufacturing sites for higher-margin industries.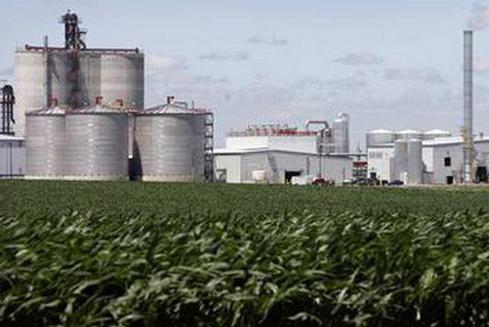 Through its production of isobutanol, Gevo is able to tap into plastics and solvents. Isobutanol can even be utilized as a drop-in blend component for petroleum jet fuel. As for Solazyme, the company is already commercially producing high-margin cosmetics and marketing their products through distributors such as Sephora and QVC. Solazyme's ability to tailor various forms of triglyceride oil production allows for the company to be able to directly address a $3.1 trillion market space today. The company's products are able to serve as direct replacements for oils derived from petroleum, plants, and animal fats. Yet both Gevo and Solazyme remain hindered by the need for manufacturing capacity in order to operate on their business models. Should corn prices remain high, the fall of corn-based ethanol companies could spell opportunity for these growing companies.
Disclaimer: Please refer to my standard disclaimer found here.
Disclosure: I am long SZYM.