The healthcare sector has been the strongest sector in one month performance, posting +5.1% gains.

I screened the healthcare sector for stocks that had the biggest one day surges on Wednesday, July 18th. Here are three stocks that I found:
1. Supernus Pharmaceuticals (NASDAQ:SUPN) is a specialty pharmaceutical company focused on developing and commercializing products for the treatment of central nervous system diseases. The company is developing several product candidates in neurology and psychiatry to address large market opportunities in epilepsy and ADHD including ADHD patients with impulsive aggression. These product candidates include Trokendi XR (extended-release topiramate), formerly known as SPN-538 and SPN-804 (extended-release-oxcarbazepine) for epilepsy, SPN-810 for impulsive aggression in ADHD and SPN-812 for ADHD.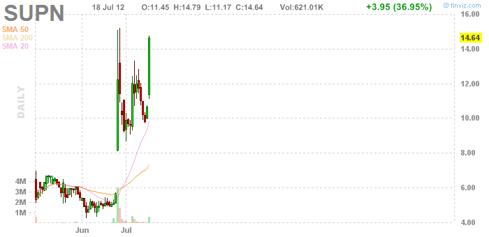 The stock surged 37% on Wednesday with no news. On June 26, 2012 Supernus received a tentative approval letter from the Food & Drug Administration for Trokendi XR, a once-daily extended release formulation of topiramate. The company is planning on launching SPN-804 in 1Q 2013, assuming approval in October 2012, and then followed by Trokendi XR in 3Q 2013. The NDA for SPN-804 is currently under review by the FDA with a PDUFA date of October 19, 2012.
2. Galena Biopharma (NASDAQ:GALE) is a Portland, Oregon-based, biopharmaceutical company that develops innovative, targeted oncology treatments that address major unmet medical needs to advance cancer care.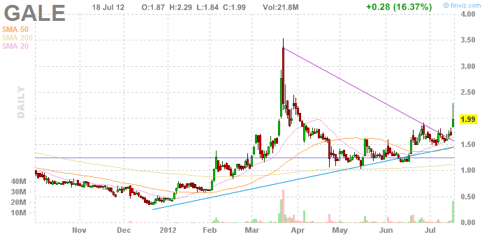 The stock surged 16% on Wednesday with news. Galena announced on Wednesday the issuance of a key patent, originally allowed in March 2012, from the U.S. Patent and Trademark Office (USPTO) covering the use of its product candidate, NeuVax, a HER2/neu peptide vaccine, for inducing immunity to breast cancer recurrence in patients having low-to-intermediate IHC levels of 1+ or 2+ and a FISH rating of less than 2.0.
3. Bacterin International Holdings (BONE) develops, manufactures and markets biologics products to domestic and international markets. Bacterin's proprietary methods optimize the growth factors in human allografts to create the ideal stem cell scaffold to promote bone, subchondral repair and dermal growth. These products are used in a variety of applications including enhancing fusion in spine surgery, relief of back pain, promotion of bone growth in foot and ankle surgery, promotion of cranial healing following neurosurgery and subchondral repair in knee and other joint surgeries.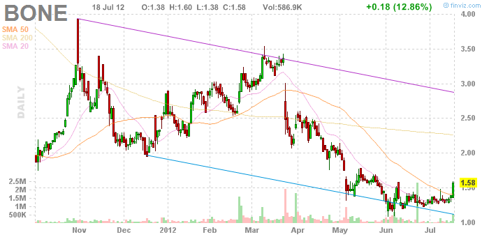 The stock had a 13% surge on Wednesday with no news. I see at least four reasons to buy Bacterin currently:
1. The company has grown revenues for 3 years.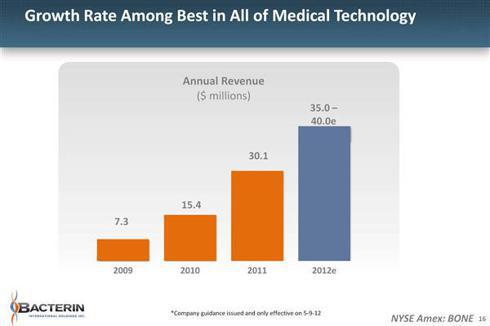 Revenue for the year ended December 31, 2011 was a record $30.1 million, up 96%, compared to $15.4 million for the full year in 2010. Net loss was $3.0 million or $(0.08) per basic share for the year. This compares to a net loss of $19.5 million or $(0.61) per basic share for the previous year 2010. The company's revenue guidance for 2012 is $35 million - $40 million.
2. Future catalysts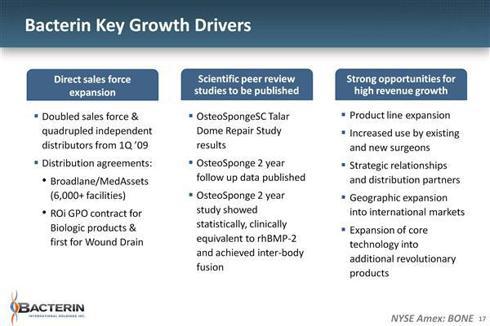 According to the webcast from Jefferies 2012 Global Healthcare conference dated June 4th - June 7th, the company has the following growth drivers expected during the next 6 months:
hMatrix product: uptake in the wound care market was slower than expected due to reimbursement issues surrounding its use for the treatment of diabetic foot ulcers, which the company believes will be corrected with the expected issuance of a Q code by January 1, 2013. To address this issue, the company has shifted its manufacturing and marketing focus to address additional markets in sports medicine and reconstructive surgery that the company expects will drive higher sales over the last 3 quarters of 2012.

OsteoSelect DBM putty: A preclinical study recently completed at Hospital for Special Surgery on the company's OsteoSelect DBM putty is expected to be a significant driver of sales in the remainder of 2012 and 2013. OsteoSelect DBM putty proved equivalent to autologous bone graft, which is the current gold standard for spinal fusion, in the posterolateral intertransverse rabbit model.

Data readouts: The company is also expecting data on its coatings in the second half of this year, as well as independent data on OsteoSponge SC.
3. Insiders own 29.8% of the company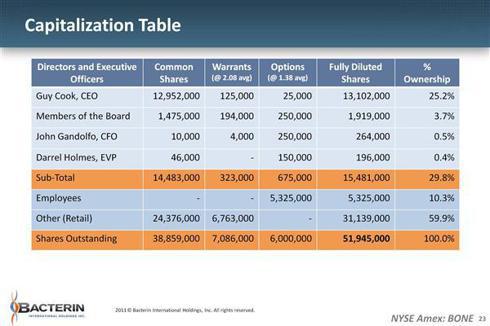 Kent Swanson purchased 27,977 shares on June 11th and currently controls 450,000 shares of the company. Kent Swanson serves as a Director and Compensation Committee Chairman.

Guy Cook purchased 95,451 shares during May 9th - June 8th. Guy Cook owns 25.2% of the company. Guy Cook serves as a Chairman of the board, CEO and President of the company.

Jon Wickwire purchased 20,000 shares on May 8th and currently controls 363,139 shares of the company. Jon Wickwire serves as a Director and Chairman of Corporate Governance and Nominating Committees.
4. The sector has seen industry consolidation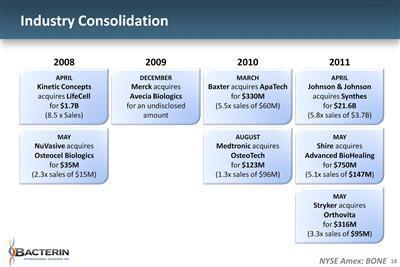 On April 27, 2011 Johnson & Johnson (NYSE:JNJ), the world's most comprehensive and broadly-based manufacturer of healthcare products, and Synthes, a premier global manufacturer of orthopaedic devices, announced that it has entered into a definitive agreement whereby Johnson & Johnson will acquire Synthes for CHF159 per share, or $21.3 billion.

On May 18, 2011 Shire (SHPGY), the Irish maker of treatments for attention-deficit disorder, said it agreed to buy closely held Advanced BioHealing for $750 million in cash, a day before the biotechnology company was to go public.

On May 16, 2011 Stryker Corporation (NYSE:SYK) announced a definitive agreement to acquire Orthovita, a global developer and manufacturer of orthobiologic and biosurgery products, for $316 million in cash.
Conclusion
Supernus Pharmaceuticals has its next major milestone on October 19th. The surge in Galena's shares on Wednesday was due to patent news. Bacterin did not announce any news on Wednesday but has several future catalysts pending.
Disclosure: I am long BONE.