While it may seem a bit early to be predicting a break out in Sirius XM (SIRI) after the most recent rise in share price from the $1.80's up to around $2.10, it appears that shares may be ready to pop up yet again.
Despite issues weighing on the stock as of this writing I believe the stock itself may shrug off these burdens and leap higher. Issues such as Liberty Media's (LMCA) ongoing pursuit of control and a pensive audience waiting for a response from the FCC, and the fact that options expiration comes on Friday, may not be enough weight to hold the share price back from a break out.
Consider Mel Karmazin's sales this week. 7,800,000 shares were gobbled up as a temporary blip on the radar, with shares of Sirius XM trading up on both days of sales. Stark contrast to Mel's first sales, which sent share prices tumbling into a free fall.
Over 600,000 new subscribers were already announced for Q2, and as Spencer Osborne pointed out, July is shaping up with a potential nice surprise. Investors certainly are bullish about both the Q2 conference call, as well as the potential Q3 will have in store. As Sirius XM continues to perform well, the company itself may have enough steam to break through the weight of Liberty at $2.15.
Consider the following charts. Important numbers here are the 100 day moving average at $2.10 in red which has served as resistance since Sirius XM broke free of the previous $1.80 doldrums, and which has now been broken by Wednesday's close of $2.11. Also pay attention to the 10 day moving average in blue, which has served as support, and now rests at $2.07 and remains in an uptrend.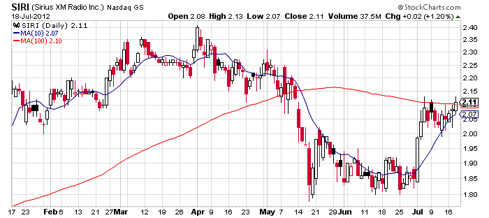 When looking at the following chart, pay attention to the 200 day moving average in red, and the 20 day moving average in blue. Golden crosses often signal confirmation of uptrends, or serve as reference points for traders who use them to predict bullish price movement. The 20 day moving average crossing up across the 200 day moving average is one such "Golden cross" and should be watched carefully as it should complete by the end of the week. With the 200 day moving average rising, and the 20 day on a sharp incline, the effect could be significant for those who trade on technicals.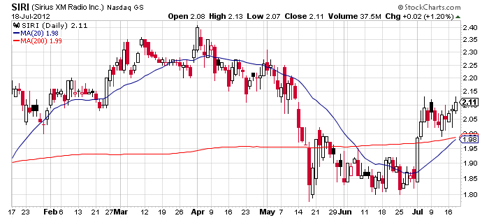 I have to think, if I were short Sirius XM here, I might use Mel Karmazin's highly predictable sales as a convenient point to cover my shorts for the next big move. Is this what happened? There was obviously enough buying pressure to eat up every last one of those shares and continue the bullish momentum.
I feel shares of Sirius XM are due to pop within the next week, and while I hate to give price targets and time frames, I will say that the previous jump from these levels sent the share price running from $2.10 to $2.35 in short order. I will be looking for similar behavior here. While options expiration may weigh on shares slightly, I wouldn't count on options to weigh them down to any significant extent.
It's a good time to be long Sirius XM.