International Business Machines Corp. (IBM)'s Q2 EPS of $3.51 beats consensus estimates by $0.09. Revenue of $25.78B (-3% Y/Y) misses consensus estimates by $500M. The company expects 2012 EPS of at least $15.10, above consensus of $15.06 and prior guidance of at least $15. The company's decade-long shift to higher-margin software sales helped the company overcome a slowdown in technology spending last quarter and boost its full-year earnings forecast.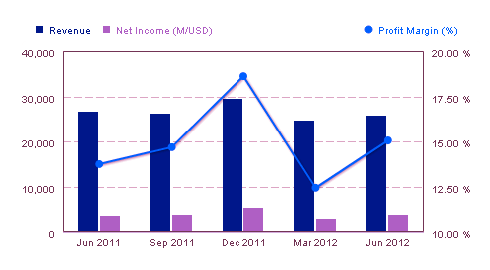 IBM, the world's biggest computer-services provider, aims to get half of its earnings from software development business by 2015, a move away from less-profitable hardware and services business. Chief Executive Officer Ginni Rometty sees an opportunity for growth by selling software in developing economies and creating programs that work with cloud computing and business analytics.
Let's now analyze what Chief Financial Officer Mark Loughridge said yesterday in a conference call where they discussed the Q2, 2012 results. You can read the full earnings call transcript here.
Margin Expansion by a Combination of Productivity and Mix to Higher Margin Businesses
The management said that an important element of their long-term model is to expand margin through a combination of productivity and mix to higher margin businesses. This quarter, the company expanded operating gross margin by 1.5 points with two-thirds due to improvement in segment margins and the other third from mix. Improved operating PTI margins by more than 2 points and operating net margin by 1.6 points helped this quarter again to demonstrate the flexibility in their model.
Bottom-line: The company delivered operating EPS of $3.51, which was up 14% year-over-year.
Shift to Software Development
In software, the company had mid-single digits constant currency growth in Europe and Japan, double-digit growth in the growth markets, while the U.S. growth was lower due to very stronger performance a year ago. Forex impacted Q2 revenue by $1B. Free cash flow was $3.7B, up 9% Y/Y. Software revenue of $6.2B was flat, and up 4% at constant currency (up 5% over Q1), while services down 3%, and hardware down 9%, with server, storage, and chip sales all declining.
Bottom-line: Q2 results clearly suggest that the shift to software was a good decision. In the coming quarters this shift will certainly help achieving margin expansion and increased profitability.
Capturing the Opportunity in Growth Markets
Overall revenue from the major market countries was down 1% year-over-year. With 8% growth, the growth markets rate outpaced the major markets by 9 points. Even with the tough compare the BRICs had another good quarter combined, they were up 12%. The company had particular strength in Russia and China. In fact China was up a very strong 24% this quarter.
The management says they are continuing to build capabilities in China. They've expanded the number of branch offices and now have 68 phase to phase and over 100 virtual branch offices open across all of China. Across the growth markets this quarter more than 30 countries grew at a double-digit growth rate.
Bottom-line: The company is trying to capture the opportunity from these faster growing economies. The management is in the process to accelerate market expansion initiatives in the growth markets. This is the eighth consecutive quarter of sharing gains in the growth markets. This effort will certainly help boosting margin and profitability in the coming quarters.
Q2 Results: Short Term Impact on Share Price
IBM share price rose 2.8 percent to $193.55 in extended trading after the Q2 result was released. The stock, up 2.4 percent this year, had climbed 2.5 percent to $188.25 at the close in New York.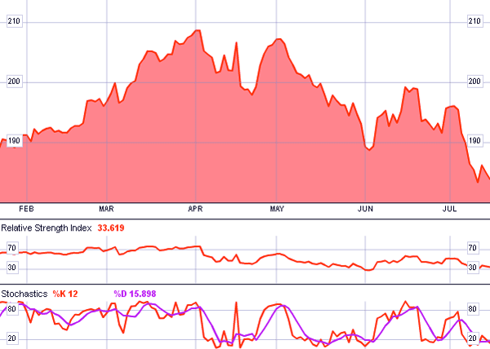 Click to enlarge
In the near term the share price is expected to move higher on short squeeze. The correction that started in May could be over. The chart is suggesting that the chance of an immediate downside in the share price is limited. The RSI and Stochastics indicators turned bullish.
Long Term Prospect
Given the protracted economic recovery worldwide, IBM share price may not rise immediately from the current levels. A 10 to 15% up-move is possible in the next six months to one year. If the management is able to deliver what they discussed in the conference call, the share price will certainly rise significantly in the long term.
Disclosure: I have no positions in any stocks mentioned, but may initiate a long position in IBM over the next 72 hours.