I can't claim to have coined the phrase "Content is king, distribution is queen." Credit for that goes to CTC Media (NASDAQ:CTCM), a Russian media outfit, which I gleaned from their recent analyst presentation. But I could not have articulated the investment premise better myself: we are entering a world where digital content owners have the ability to control the production and distribution of content through the proliferation of technology and communication bandwidth, thereby establishing an economic moat and allowing for pricing power among content owners.
It's a precarious world for the middle man. Look at Netflix (NASDAQ:NFLX), a digital middle man scrambling to license content from content owners. Why, for example, would TimeWarner (NYSE:TWX) (parent of HBO) license its proprietary content to Netflix for anything less than the full economic profits it could reasonably expect absent Netflix? The cost of developing an app (HBO GO) to sell its content direct to the consumer through the host of personal media available including, smart phones and TV's, laptops and tablets is less expensive than the lost profits that would be incurred by sharing the content with Netflix.
To me, it's a no brainer: the content owners have the bargaining power in this negotiation, in this new world where smart phones and tablets have provided digital content owners direct, unencumbered access to the consumer.
If you believe the thesis, the following three digital content owners represent compelling investment opportunities, ripe for further due diligence for investors: CTC Media, Vivendi (OTCPK:VIVHY) and Grupo Prisa (NYSE:PRIS) (NYSE:PRIS.B). Each company is headquartered outside the United States, and levered to growing markets.
CTC Media
Based in Russia (but listed on the NASDAQ), CTC Media is a content producer (Story First Production) and distributor, owning television stations in Russia, Kazakhstan, Moldova and expanding to other international markets including the United States. Further, CTC underwent a transformation by creating an in-house advertising sales unit because of certain regulations that came into force in the Russian media market in 2010, consequently allowing CTC Media to control the entire value chain - production, distribution and sales.
The price of an equity security depends, in large part, on future earnings. In addition to its robust business model, CTC Media is levered to growing markets, both drivers of future operating performance. Russia is currently the 9th largest media market in the world and 5th in Europe, but is expected to be the 5th largest in the world and largest in Europe by 2014. Case in point: the TV advertisement market grew at 15% compound annual growth rate ("CAGR") from 2004 to 2011, and is expected to continue to grow at a fast pace because the Russian advertisement market is smaller as a percentage of GDP relative to other countries and the Russian consumer is under leveraged relative to those in other European countries.
At $7.50/share, CTC Media's equity is valued at about $1.2 billion which is backed by just over $100 million in cash and no debt. Throw in a nice 6.8% yield based on a sustainable pay out of the operating cash flows and CTC Media begins to look like a bargain due to its clean balance sheet, dividend yield, solid cash generation and potential for future growth. The company's stock is off some 63% from its 52 week high. While no catalysts to unlock shareholder value appear to exist currently, the company looks undervalued based on its good operating performance, steep drop in the share price and for its ability to control the entire value chain.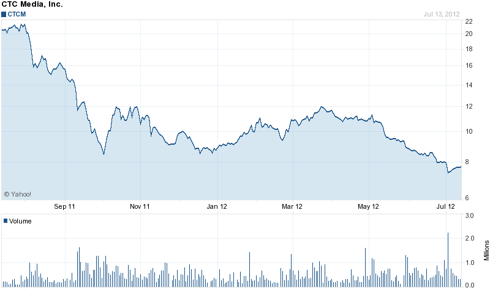 Click to enlarge
Vivendi
Headquartered in France, this name trades close to 9 year lows, levels not seen since the company recorded the biggest single year loss for a French company, 23 billion euros in 2003. Despite markedly improved fundamentals (and a more cohesive set of businesses underlying its corporate umbrella), Vivendi can be purchased around four times enterprise value to earnings before interest, taxes, depreciation and amortization (EBITDA). Recent news of a potential sale or spin off of its 61% stake in Activision Blizzard (NASDAQ:ATVI) valued at some $8 billion served as a catalyst to wake investors up to the value of the collection of assets underlying Vivendi's conglomerate structure. The stock returned some 25% since mid-April (just before rumors surfaced about the sale of Activision Blizzard), including a one euro ($1.25) per share cash dividend and 1 for 30 stock dividend issued by Vivendi.
Here again, recently ousted CEO Jean-Bernard Levy was reluctant to break up Vivendi because of what he viewed as a cohesive collection of businesses focused on content creation (video games, Activision Blizzard; music, Universal Music Group; television shows and film, Canal+) and distribution (SFR, Maroc Telecom and GVT, all telecom businesses). I agree with Mr. Levy. But it's more important that the market agrees with the value proposition. After all, it is the market that sets the price for a business, not a CEO (who has influence on the value of the business).
Vivendi disclosed in its 2011 annual report that the renowned deep value, absolute return oriented Baupost Group acquired a 2% equity stake. Because the Baupost Group is rumored to keep considerable cash on hand in order to take advantage of sudden bargains, I would not be surprised to learn that Baupost Group increased its stake on the recent share price weakness. It also shows Baupost's penchant for media and communications businesses, including its interests in ViaSat (NASDAQ:VSAT) and News Corp (NASDAQ:NWS).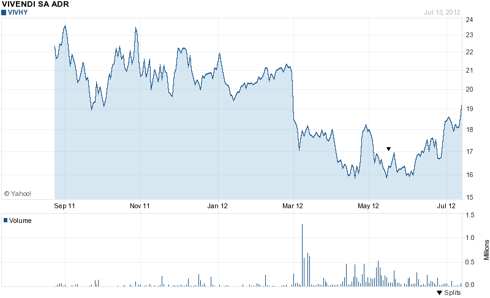 Click to enlarge
For more information on Vivendi, see my narrative from April here.
Grupo Prisa
If CTC Media is the representation of a conservatively managed, well capitalized media business, Grupo Prisa is most definitely the antithesis. Prisa does, however, represent a special situation investment (including a dual class structure where B shareholders have dividend preferences and conversion rights to A shares), requiring substantial due diligence for potential investors, and considerable upside should its debt issues be resolved in late 2014. Recently shareholders approved a deal to stabilize its balance sheet at its 2012 Annual Shareholder meeting whereby three actions occurred, collectively saving/infusing the business with about 700 million euros:
B shareholders agreed to take its dividend in A shares rather than cash.
A syndicate of creditor banks agreed to convert 334 million in bank debt to A shares at 1.03 euros/share, three times higher than the share price at the time of the deal.
Telefonica (NYSE:TEF) provided a 100 euro million cash infusion in exchange for an 8% stake in the A shares (which will ultimately be diluted to 5-6% after additional outstanding warrants are exercised). I presume the investment was partly strategic, as Telefonica appears to want to fend off Carlos Slim (who bought 3.2% of the company last November at higher prices) from encroaching on its markets in Spain and Latin America.
Although Prisa has a weak balance sheet, Prisa owns a large collection of valuable assets (wholly or partially) throughout Spain and Latin America, including but not limited to:
Audiovisual: #1 pay-TV operater in Spain (Canal+) and #1 free-to-air TV operator in Portugal (TVI).
Press: Market leading Spanish newspapers (and internet domains), El Pais, AS and Cinco Dias.
Radio: #1 in Spain, Chile and Colombia for both talk and music radio; #2 in Mexico.
Education: #1 in textbooks in Spain, Chile, Mexico, Brazil, Colombia and Argentina; #3 in Portugal.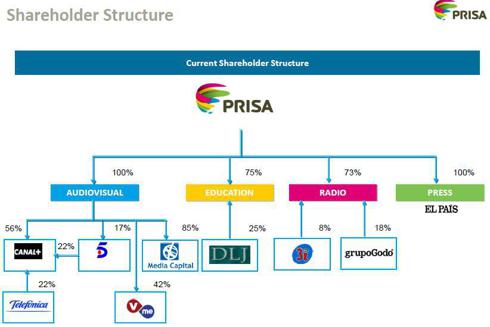 Collectively, these businesses generated over 400 million euros in EBITDA in 2011 (and 108 million in Q1 2012), during a terrible economic environment in Spain. Yet the equity is valued at about 428 million euros (but is subject to some additional dilution in the form of warrants held by Nicolas Berggruen and Martin Franklin, the two financiers and architects of the Prisa turnaround). Once the uncertainty resides around Prisa's large debt balance (either it gets paid off in full in late 2014, gets extended or the company goes bankrupt) it will become clear that the equity is misvalued - its either worth zero or exponentially more than the current value. Because Prisa has been able to attract interest from sophisticated investors and sell off portions of its assets to raise cash, I think the latter is more likely.
There are a lot of details with respect to the value proposition at hand, including special financing arrangements and certain preferences for B shareholders.
For a lucid explanation of the details, see Whitney Tilson's article and Michael Ross Seeley's article.
Conclusion:
Warren Buffett frequently talks about investing in companies containing economic moats; that is, businesses who are the best at what they do and stand to generate handsome economic profits because of it, and who are at less risk of relinquishing the castle from competitive forces. I believe content creation and distribution is one of the best ways to play Mr. Buffett's economic moat theory, given the bargain valuations of certain media companies and the technology proliferation allowing consumers to freely choose their content rather than have a middle man dictate the flow of content.
Disclosure: I am long OTCPK:VIVHY, PRIS.B.
Additional disclosure: I have a limit order set for CTCM below the closing price on Friday July 13, 2012.