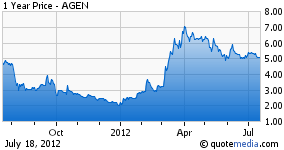 Agenus Inc. (AGEN) was launched back into the spotlight late last year when news circulated the wires that the company's QS-21-Stimulon vaccine adjuvant was being used by GlaxoSmithKline (GSK) in a high-profile malaria vaccine that, at the time, was receiving a huge amount of media coverage thanks to some positive late stage trial results.
The attention paid Agenus following those reports also brought to light for many investors the fact that Stimulon was being used in multiple late-clinical-stage vaccine candidates and would receive a royalty of any potential sales registered by those vaccines. While that revenue potential alone would not likely be enough to justify an investment in AGEN as a stand-alone entity, especially not over the near term as Glaxo stated its intention to not profit from the malaria vaccine, a revised partnership deal between Glaxo and Agenus had to buyout rumors swirling.
According to the revised deal, GSK would be granted a 'first right of refusal' in the event of an Agenus buyout, or if certain of Agenus properties were to be on the bidding block, namely QS-21 and/or the cancer immunotherapy treatment Prophage that is currently being tested in the treatment of glioma. Also as result of the agreement, the wording at the time stated taht, "GSK will pay Agenus a non-refundable payment of $9 million, of which $2.5 million is creditable against future manufacturing technology transfer royalty payments. The agreement also includes royalty payments for an undisclosed indication upon commercialization of a vaccine product."
These developments provided a much-needed boost for Agenus shares, which rallied from near the two dollar level at one point to over seven. In fact, shares had been on the move for the better part of the early portion of 2012 before settling down and hovering at around the five dollar market of today.
Thanks to the Glaxo news, some buyout talk and revised partnership, it was apparent that AGEN was once again for real. Since then, however, it's been another period of relative silence as the Progphage trials develop.
The company did release an update this week, though, reporting on the initiation of a Phase III trial for GSK's herpes zoster vaccine candidate that utilizes QS-21. Probably more importantly, however, was the broad update offered by AGEN, that highlighted the 16 different vaccines of which QS-21 is a part.
Dr. Garo Arment, AGEN's Chairman and CEO, noted that:
"There are currently 16 QS-21 containing vaccines in clinical development and we look forward to significant news flow from our partners with pivotal data readouts expected from at least four key clinical programs that incorporate QS-21."
The "pivotal data readouts" could provide some pending catalysts, but Agenus is sitting on a market cap of over one hundred million right now, which is well enough, in my opinion, to justify the QS-21 revenue potential, especially over the near term. That cap it's also a reflection of the company's Prophage potential, which would most certainly be the company's real money maker, if early successes in treating glioma continue to hold true through commercialization. Should trial results turn out positive, then expect another round of increased attention, a share price boost, but the real driver would be buyout talk again. Given the agreement with Glaxo, it's likely that any good news now in pipeline development will come with a round of buyout talk.
Still one to consider for its long term potential. Cancer immunotherapy treatments that work tend to move a company's share price - a la Dendreon (DNDN) back in the day.
Disclosure: I have no positions in any stocks mentioned, and no plans to initiate any positions within the next 72 hours.