Cross Country Healthcare (NASDAQ:CCRN) provides staffing services to hospitals, clinics, pharmaceutical and biotech companies, and HMOs. Nursing and related services provided 80% of 2007 revenues. Both traveling and per-diem nursing services are offered. Clinical research staffing (13%) and human capital management services (7%) made up the remainder of sales last year.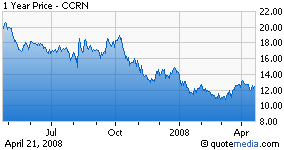 Earnings per share grew from $0.47 in 2005 to $0.65 in 2006 and finished at $0.76 in 2007. Value Line and Zack's are looking for $0.80 and $0.82 for 2008 respectively.
The aging of America puts this company in a good position to grow over the long term as the need for nursing services is likely to expand greatly over time.
This is a small-cap stock with only about 31.58 MM shares outstanding. The balance sheet is strong with only $39.5 MM of total debt ($1.25/share). Their current assets / current liabilities = 2.95x.
Cross Country Healthcare Inc: Key Ratios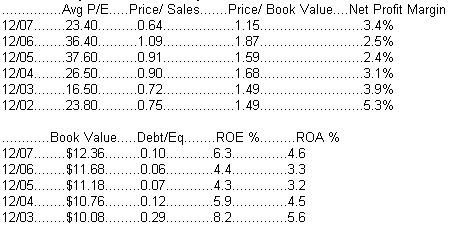 Source: MSN MoneyCentral
Cross Country has typically sold for P/Es > 20. The only year it averaged less of a multiple was 2003 when its P/E was 16.5x. Buyers of these shares near the low of $9.50 saw the stock price more than double to $19.90 within 12 months.
Today's quote of $12.49 is just 16.4 times trailing EPS and 15.6 times Value Line's estimate of $0.80 for 2008.
CCRN's price/book value has normally run at least 1.4x and its price/sales has typically been 0.75 or higher.
A rebound to even 20 times earnings leads to a $16 target by year-end. 0.75 times expected 2008 sales would bring these shares to > $18. Even 1.4 times book value should see CCRN back to > $18 as well.
Is a goal of $16 – $18 reasonable? Sure. Cross Country shares have actually hit peak prices of $16.40 - $24.10 in each calendar year from 2001 right through 2007.
Risk? At today's price of $12.49 these shares trade below the lows hit at any time during 2004-2005-2006-2007 when sales, earnings, cash flow and book value were all lower than the current figures.
At year-end 2007 some well regarded 'value' managers held big positions in CCRN:
Artisan Partners held 13.9%
Wells Fargo owned 12.2%
Dimensional Fund Advisors held 8.76%
Royce & Associates held 8.08%
Barclays Global Investors owned 5.03%
Vanguard Group held 3.11%
Officers and Directors owned 6.7%.
With CCRN shares near five-year lows despite wonderful fundamentals…
Cross Country Healthcare shares may be just what the doctor ordered for your portfolio.
Disclosure: Author owns shares in CCRN.