Ctrip (NASDAQ:CTRP) will report Q2 results on July 24th.
Its smaller rival eLong (NASDAQ:LONG) is expected to report in early to mid-August.
| | | | | |
| --- | --- | --- | --- | --- |
| Company name | Ticker | Q2 revenue est. | EPS est. | Q3 revenue guide |
| Ctrip | CTRP | $155 | $0.17 | $183 |
| eLong | LONG | $28 | $0.07 | $34 |
Heading into earnings for Ctrip, investors can expect a weak Q2 due to a soft macro environment and intense competition.
According to the Civil Aviation Administration of China, air traffic continued to decelerate in the first two months of Q2. Given the difficult macro environment and high exposure to air ticketing (40% of Q1 revenue), the current Street consensus might prove to be aggressive.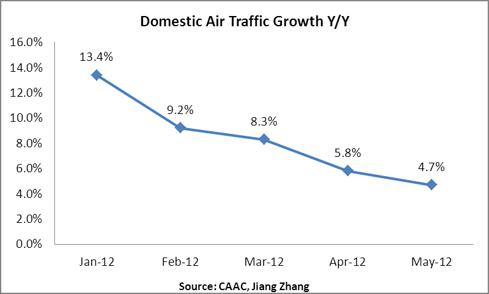 Competition in the travel space has also intensified due to competition from eLong, the rising prominence of Baidu's (NASDAQ:BIDU) Qunar, which is known as "The Chinese KAYAK" and specializes in travel search, and Taobao, which operates under an OTA/advertiser hybrid business model.
Ctrip and eLong have been waging an intensive coupon war over the past year. eLong was the first to introduce the coupon discount program, which was later adopted by Ctrip. Subsequently, eLong filed a patent on Priceline's (NASDAQ:PCLN) "Name-Your-Own-Price" business model to promote its hotel booking volume, which grew at triple the rate of Ctrip in 1Q12.
But interestingly, the winners of the current price war are Qunar and Taobao, which operate under a merchant model by buying at a discount and reselling it at a higher markup. A recent check on the Qunar and Taobao sites indicate that rates for 4 and 5 star hotels are priced at least 10% below that of Ctrip and eLong. In my view, the lowest price setter wins the battle in the online travel space. While Qunar and Taobao are not a major threat to Ctrip and eLong now, I believe that long-term consequence is a major concern when Qunar and Taobao reach a certain scale.
As for eLong, investors can expect strong hotel volume as indicated earlier that the company is beating Ctrip in the price war. Margin expansion could be on the horizon as the company shifts more operations towards online transactions. I note that 66% of total transactions in 1Q12 was from online.
Disclosure: I have no positions in any stocks mentioned, and no plans to initiate any positions within the next 72 hours.