After working to invalidate the Head and Shoulders pattern that was forming the S&P 500 (SPDR S&P 500 Trust ETF: SPY), the market is now ready to start paying attention to bad headlines again. For the last three days, the market has been ignoring all bad news and working off the oversold conditions from last week. Since we have seen some bottoming action in spot VIX and the futures, I feel it is a good point to start positioning yourself long volatility.
As always, we want to be looking at the charts and the term structure:
Click to enlarge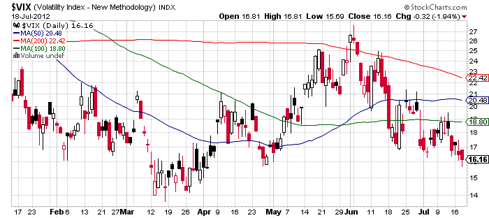 Click to enlarge
Spot VIX: 16.16
Aug Futures: 18.68
Sep Futures: 20.48
With Spot as low as it is, and a dip into the 15s yesterday, we should be good for a run up to 18 or so in spot, which should take us back to 20 in the August futures. I would expect that 7% gain to translate nicely into these initial sell targets for VIX products:
VXX: 12.85 to 13.75
UVXY: 6.89 to 7.85
TVIX: 3.26 to 3.72
XIV: 13.05 to 12.14
These are my targets for sales on the easy part of the expected volatility move—not necessarily ceilings for where the products might max out at. Spot VIX could head back to the high end of the range at 20, but profits should be taken when they are available when trading volatility. Don't get greedy.
Trading Strategy
Entering long volatility plays now should be profitable in the coming weeks. Outside of about 2 weeks and the constant contango in VIX, futures will start to significantly impact long volatility plays. Trading volatility for longer than 24-hour holding periods requires patience and the ability to recognize profitable entry points.
It is entirely possible that I am still too early in this call and volatility will head lower from here. While that is definitely possible, we are at a level in spot and futures that allows averaging strategies to pay off. Once VIX has found a floor, it is simply a waiting game until the next headline causes another pop higher. Sure, contango will eat up to 5%-10% of the amount if we hold it too long, but by timing our entries and scaling our position size, we can try to wait out the market.
If you have a certain size that you want to carry for long volatility, I would suggest an entry at these levels and then doubling as we head down. Once the entire trade is profitable, let it run but set a stop at entry once you have a cushion. The worst feeling is to have a profitable trade go against you, and with volatility, that can happen very, very quickly.
Disclosure: I have no positions in any stocks mentioned, but may initiate a long position in UVXY over the next 72 hours.