Recently, Experian Automotive announced that the age of vehicles increased when compared to Q1 2011, up 1.9 percent, and that the average age is now 11 years. Also, the automotive loan market since last year has shown a tremendous improvement thanks to the following reasons (as of 2011 year end):
the interest rates for new and used vehicles have reached lowest levels since 2008,
the average required credit scores for automotive loans have dropped,
lenders' readiness for longer term loans have increased, resulting in lower monthly payments, and
percentage of loans to customers with bad credit scores have increased.
These stories tell us that there is a strong case for increased automotive sales in the next few years.
In trying to find companies that will benefit from this, it is not hard to stumble upon TRW Automotive Holdings Corp. (TRW) - one of the largest suppliers of automotive systems, modules and components worldwide.
About TRW Automotive Holdings Corp.
TRW Automotive Holdings Corp. markets its products in the United States, Europe, and Asia. 84% of the company's sales in 2011 were made directly to vehicle manufacturers, and about 50% of the it's 2011 revenues came from Volkswagen AG, Ford (F) and General Motors (GM).
The company designs and manufactures almost all things related to light duty vehicles - steering, foundation brakes, brake control, modules, suspension, air bags, seat belts, safety electronics, steering wheels, security systems, body controls, engine valves and various electronic systems used in vehicles. The company operates in four business segments namely Chassis Systems Segment, Safety Systems Segment, Auto Components Segment and Electronics Systems Segment.
Sales By Region
The current mess in Europe and the growth concerns in emerging markets compel us to focus on how any company's revenues are spread out in different regions worldwide.
A very important thing to note about TRW is that a whopping 49% of its 2011 revenues came from Europe, while 32% were from the United States, 14% from Asia and remaining from the other parts of the world.
Stock Price Performance
TRW is currently trading at around $36, closer to its 52-week low of $28.85, and very far from 52-week high of $54.84. The stock price has plunged by about 19% in the past 3 months and by 34.2% in the past 12 months.
The recent underperformance of this stock can be attributed to weak projections by Ford and also the company's regional sales data coming out of Europe.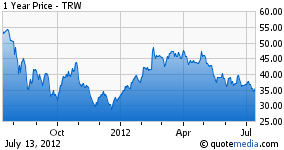 TRW's Earnings Performance and Future Expectations
Take a look at the following table for TRW's past two years' EPS performance as well as expectations for the years 2012, 2013 and 2013. The annual EPS estimate for 2012 has been lesser because of the overall slow economic recovery, lack of substantial job growth (hence low consumer demand), and the recessionary environment stemming from Europe.
However, going into the next 2 years, the picture is expected to improve.
click to enlarge)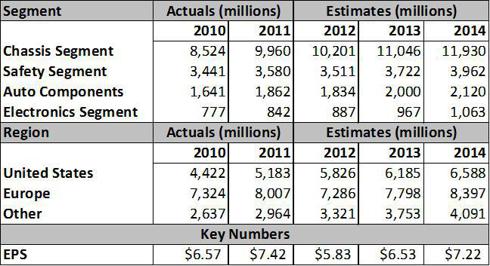 Click to enlarge
Catalysts for TRW
The are several positives for this company - some due to recent undercurrents in the automotive market, others attributed to the solid fundamentals of the company:
There is a growing public and government awareness over automotive safety and airbag related regulations are on the rise. Airbags sales are expected to rise also due to the increased vehicle production worldwide. In fact, the global airbags market is set to boom and has been projected to reach 474 million units by the year 2017.
Asia-Pacific has a relatively lower per capita vehicle ownership compared to developed markets. There is huge potential for the automotive market in this region. TRW has used strategic joint ventures to enter the markets in China, India and Korea to acquire new customers and build new capabilities.
There is a theory that the increasing average age of the vehicle is not only because of the sluggish economy, but also because vehicles are being built to last longer.

If this theory is true, there are many growth opportunities in the after market sector and TRW has a solid after market product line to benefit from this.

TRW has a strong balance sheet and is in the best position among peers to buy back stocks. Consider this: the company's Debt-Total Capital ratio is 30%, and Interest Coverage is 14.39 which means that operating profits are 14.39 greater than the interest payments; therefore, TRW can service it's debt quite easily.
The company has a solid Return on Equity or ROE of 38.20%. EPS growth for past 5 years is 38.83%, Project EPS Growth (Next Year vs. This Year) is 12.01% and Cash Flow Growth Rate is a solid 18.28%. The company's EBITD Margin is approximately 10%.
Increase in the average age of vehicles and easy auto loan availability point to higher vehicle demand and hence higher production, benefiting TRW.
Target Price for 2012, 2013 and 2014
TRW has a 5 year average multiple of 10.9. Applying this multiple to the EPS estimates for the next three years including 2012, the target prices for 2012, 2013 and 2014 are as follows:
2012 Target Price: $63.55
2013 Target Price: $71.18
2014 Target Price: $78.70
Conclusion
Investors should watch closely any news and data coming out of Europe before making investment decisions on companies like TRW.
Even though at the current price, the weakness in Europe appears to be factored in, investors must be careful in selecting entry points.
Historically the summer rally is weak and fades quickly in the third quarter, and the months of August and September are the weaker months for S&P 500.
A realistic recommendation for a Europe-heavy stock like TRW would be to slowly add positions at various prices (especially on dips) as we march towards the fourth quarter of 2012. A recommended holding time for this stock is about 12-24 months.
Risks for TRW
There are always risks for any company that might prevent it from meeting its earnings estimates. Risks for TRW include:
reduced vehicle production in Europe and the U.S. means lesser revenues for TRW,
underperformance of Ford and Volkswagen in North America and Europe does affect TRW negatively, and
disruption in the overall supply-chain in the global automotive industry affects TRW's operations.

Example of a disruption could be factory closings or stoppage of work at vehicle or parts manufacturers due to either artificial (economic reasons or strikes) or natural (natural disasters) reasons.
Disclosure: I have no positions in any stocks mentioned, and no plans to initiate any positions within the next 72 hours.