After a blowout Q112 report, it is worth previewing the upcoming earnings for 3D Systems (DDD) due to the sector and the stock remaining one of the hottest group in the market.
3D Systems is a leading provider of 3D content-to-print solutions including 3D printers, print materials and on-demand custom parts services for professionals and consumers alike.
The company report earnings on July 26th providing investors roughly a week to make decisions on whether to hold into the report.
Analysts Estimates
After the Q1 number beat estimates by 92% analysts have increased the Q2 earnings numbers to $0.27 from only $0.21 expected 90 days ago. Ironically the earnings are only expected to slightly top last years numbers while revenue is expected to soar 53%. The revenue growth is partially helped by several key acquisitions over the year.
Estimize consensus numbers are for the company to report $0.29 for Q2. This number is at the high end of analyst estimates which arguably haven't been very accurate on this stock. This community of informed investors and traders provides a unique view into earnings estimates.
The results have been wildly unpredictable the last 4 quarters. Both Q112 and Q211 quarters beat estimates by a wide margin. Though Q311 missed numbers by two cents and Q411 was only inline. For this to be a great stock to latch onto, estimates need to both be more predictable and constantly moving higher.
Stock Performance
The Q1 earnings report came out after the close on April 26th. The stock closed that day at $29.05 and has since rallied as high as $37. The stock closed Tuesday at $34.20 for a nearly 18% gain since that report.
3 Month Chart - 3D Systems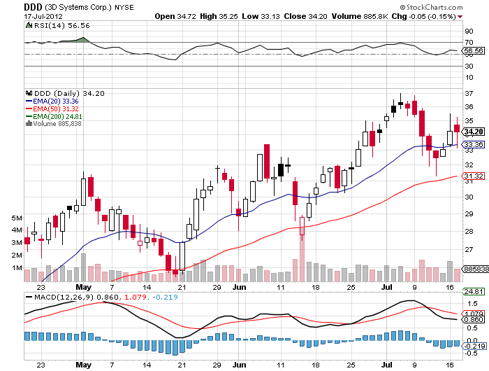 Click to enlarge
(Click to enlarge)
Q2 Updates/Mergers
In June, the company completed a 4,151,000 share secondary that raised roughly $107M. The proceeds from the offering will be used to finance future acquisitions of other entities and for working capital and general corporate purposes. See the article about it here.
On May 24th, the company acquired Bespoke Innovations to expand reach into individualized medical devices. Bespoke develops proprietary, integrated scan, design and print technology that is designed to deliver custom fit prosthetics, orthotics and orthopedic devices that improve treatment and lifestyle outcomes. The deal is not expected to be material to its revenue in 2012.
On May 22nd, the company introduced the ProJet 700 production #D printer. The printer provides for larger and faster part printing capacity.
On May 7th, the company acquired FreshFiber to add leading 3D printed accessories brand. No details were provided on the financials.
On April 17th, the company acquired Paramount Industries to boost its growing on-demand direct manufacturing services especially in the aerospace and medical device areas. No financial details were provided.
Competition
Top competitor Stratasys (SSYS) became more formidable last quarter with the purchase of Objet. Prior to this deal, the company was expecting roughly $188M in revenue for 2012 placing it at half the size of 3D Systems.
When the transaction is completed in Q312, the combined company will be a formidable competitor to 3D Systems with a similar scope and size. The integration of two different cultures could be key to whether this new entity can compete successfully.
Proto Labs (PRLB) provides a level of direct competition as the company produces CNC machined and injection molded plastic parts on immediate order. The company trades at 31x forward earnings so it isn't a huge value but fast growth is expected.
Conclusion
3D Systems provides a compelling buying opportunity around the current price of $34. The stock valuation at only 25x forward earnings is reasonable compared to the competition, but the biggest concern remains with the spotty results. Will this be the quarter that it disappoints again?
Nothing special happened in Q2 other than the secondary that could impact estimates for Q3. The company is likely to exceed analyst estimates.
The biggest concern might be that dilution squeezes estimates for the third quarter until the cash can be deployed on acquisitions. The long term remains bright for 3D printing, but the financial results aren't predictive enough to step in at these prices.
Disclosure: I have no positions in any stocks mentioned, and no plans to initiate any positions within the next 72 hours. Please consult your financial advisor before making any investment decisions.