When I last covered Sprint on June 22 2012, Sprint (NYSE:S) had just crossed $3 but the talks of further downside had not subsided. Many were skeptical that Sprint was still downtrodden and bearish plays were being made.
However, the stock's technical charts were looking rather bullish then, and at that time there were two possible break out points at 3.22 and 3.57. See the excerpt below.
Sprint's technical charts show that the action has just started, and the momentum may take the stock to as high as $4. Here are some reasons why:

Since the past three weeks or so, Sprint's relative strength has remained bullish.
The 50 day as well as the 200 day Moving Average of the stock has been rising.
The MACD shows there is some upward trend and there is an Up/Down volume pattern indicating that the stock is under possible Accumulation.
The stock has established support at 2.55 and is bound to possibly break out at 3.22 and then again at 3.57.

Source: The Thing About Sprint (June 22, 2012)
Since then, the stock has had a nice 20%+ run, outperforming the S&P 500 as well as its competitors Verizon (NYSE:VZ) and AT&T (NYSE:T).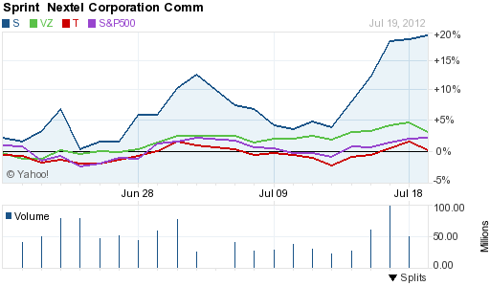 Even though my original plan was to revisit the stock at $4, I am compelled to comment on this one particular press release.
Sprint is innovating
On July 19 2012, Sprint announced end-to-end usage-based insurance services designed specifically for auto insurance carriers, providing them ability to offer their customers personalized discounts based on their driving habits. Yes, Sprint's management have their thinking hats on.
All this time they had even executed a successful pilot program with Esurance in Arizona. Esurance's executive was positive about the concept and showed satisfaction with the pilot. He said:
Partnering with Sprint on usage-based insurance is helping Esurance to offer consumers discounts of up to 30 percent based on their own unique driving habits.
And, Sprint is executing
Such news generally does not provide numbers that can be used for revisiting Sprint's valuation.
Remember Sprint's capital expenditure must always be in the back of your mind if you are invested in this stock - we don't know how much Sprint will end up spending on such innovations or what profit or EBIT growth potential rests in this particular product - the numbers are not out yet - but there is one thing that management has implicitly conveyed by this successful pilot: Execution and Innovation both are improving in Sprint.
Lack of execution and innovation is what failed companies like Research In Motion (RIMM) - and I still cannot believe how they keep delaying their launch of their "next big thing" - BlackBerry 10.
Sprint is no longer the incompetent loser in its market, and as of now seems to be on the right track, thanks to its current management.
Conclusion
Yes, finally shareholders are seeing some positive buzz in the press that is not only related to their highly scrutinized Network Vision Plan. It is encouraging that Sprint has decided to apply their services to use their spectrum for good in another industry. As a shareholder myself, this press release gives me a snuggly feeling about the stock.
Having said that, any further valuation will depend on Sprint's earnings and outlook.
Until then, enjoy the ride with Sprint.
Disclosure: I am long S.