Earnings at toymaker Hasbro (NASDAQ:HAS) rose 14 percent in the first quarter on growth in brands such as Transformers and Littlest Pet Shop. The results beat expectations and drove its shares up almost 10 percent in morning trading.
Hasbro had recently shown up on my radar screen, and has several things going for it:
2007 free cash flow of $510 million, good for a 10.4% free cash flow yield based on the current market value. Even using the average free cash flow of the last three years, the yield is more than 8%.
High earnings quality, with the difference between cash- and accounting-based earnings (as measured by the accrual ratio) less than 5%.
High earnings momentum, with rising estimates for the current and next fiscal years.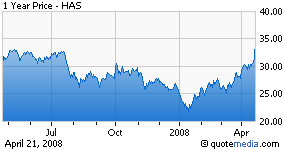 The stock has had a heckuva run since the January lows, but on a 12-month basis has gone essentially nowhere. It looks a bit overextended to me right now, but would probably look interesting on a pullback to the 50 day moving average - which is currently $28.17 and rising.
Disclosure: At time of publication, William Trent has no position in the companies mentioned.