Gold and silver declined for the third consecutive day. The testimony of Bernanke didn't reveal the next move of the FOMC. The U.S housing starts report came out yesterday: housing starts rose by 6.9% during June (M-o-M). This report may have contributed to the decline in bullion. On today's agenda: U.S. Jobless Claims Weekly Report, Philly Fed Manufacturing Index, and U.S. Existing Home Sales.
Gold price decreased again on Wednesday by 1.18% to $1,570.8; Silver also fell by 0.81% to $27.1. During July, gold declined by 2.08% and silver by 1.87%. Furthermore, during yesterday the SPDR Gold Shares (NYSEARCA:GLD) also declined by $0.42 and reached by July 18th 153.47. Currently, GLD is trading up.
The chart bellow presents the normalized rates of these precious metals during the month (normalized to 100 as of June 29th).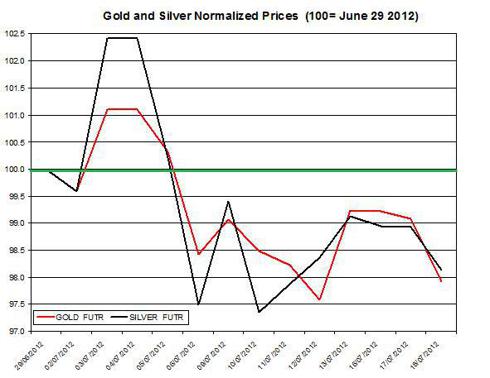 On Today's Agenda
Philly Fed Manufacturing Index: In the previous June survey, the growth rate declined from -5.8 in May to -16.6 in June. If this trend will continue this index may affect precious metals;
U.S. Existing Home Sales: in the previous report for May 2012 the number of homes sold declined by 1.5% to a seasonally adjusted annual rate of 4.55 million home sales; if this trend will continue it may curb the rally the U.S dollar;
Currencies / Bullion Market - July Update
The Euro/USD changed direction and edged down on Wednesday by 0.09% to 1.2283. Alternatively, other exchange rates such as AUD appreciated on Wednesday against the USD. The linear correlation between gold and Euro/USD is 0.70. If the Euro/USD and AUD/USD will change direction and rise, they may positively affect precious metals rates.
Daily Outlook
Following Bernanke's testimonies at the Hill as he didn't commit to another stimulus plan nor did he take this option off the table, bullion rates continued to dwindle. The U.S housing starts rose during June and thus may have contributed to the decline in precious metals rates. The U.S reports to be published today including Philly Fed, existing home sales and jobless claims may affect U.S stocks, forex and commodities markets. Finally, if the major exchange rates including Euro and Aussie dollar will change direction and appreciate against the USD, this could curb the decline in bullion and perhaps even change the direction of bullion to edge up.
For further reading: Gold & Silver | Weekly Outlook July 16-20
Disclosure: I have no positions in any stocks mentioned, and no plans to initiate any positions within the next 72 hours.