Leather goods maker Coach, Inc. (NYSE:COH) announced an increase of 19% in earnings per diluted share to $0.46 for its third fiscal quarter ended March 29, 2008, up from $0.39 per diluted share a year ago. The results were slightly ahead of expectations on both the top and bottom lines.
At first glance, my only significant concern with the report is a faster rise in inventories than in sales. This could indicate sales running below expectations, the potential for future inventory clearance at reduced margins, or a number of other potential operational issues.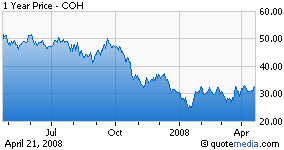 When I said Coach shares were selling on the bargain rack Coach had $900 million in cash and virtually no debt, so even the toughest recession should be survivable. With an enterprise value of just under $10 billion, and $679 million in free cash flow (cash from operations less capital expenditures) over the last 12 months, its free cash flow yield of 6.8% offers a 400 basis-point premium over the current 5-year Treasury. That would almost justify buying the shares even if no growth were expected.
Since then cash has come down, apparently due to accelerated share repurchases. It repurchased and retired 11,349,802 shares of its common stock at an average cost of $28.85, spending a total of $327 million during the quarter.
Disclosure: At time of publication, William Trent has written put options against shares of Coach.