Verizon (NYSE:VZ) reported its second quarter results today, which showed that despite growth in revenues and earnings compared to the previous quarter, the company was unable to provide any positive earnings and revenue surprises. The tables below illustrate the underperformance.
Verizon Quarterly Results

Actual

Expected

Surprise

Revenues (billion)

$28.55

$28.56

-0.03%

EPS

$0.64

$0.64

-
Verizon 2Q12 Results

2Q2012

1Q2012

Change(%)

2Q2011

Change(%)

Revenues(billion)

$28.55

$28.24

1.09

$27.53

3.7

Net Income(billion)

$4.28

$3.90

9.7

$3.60

19

EPS

$0.64

$0.59

8.5

$0.57

12
Despite Verizon not providing any positive surprises, its wireless segment performed well in 2Q2012. The company was able to increase its service revenues by 7%. Similar improvements were seen in data revenues, which grew by almost 7% from the same quarter of the previous year, with total revenues for the company's wireless segment showing an improvement of almost $1.3 billion. Despite the overall positive results posted by the company's wireless segment, there were some weaknesses as well.
For instance, the company gained 1.2 million retail customers in the second quarter, which is a deterioration of almost 10% from the second quarter of the financial year ended 2011, when the company added more than 1.3 million retail customers. Similar weakness was seen in its 888,000 retail postpaid customer additions for the quarter, where the company lost almost 30% of its postpaid customers. Verizon's wireline segment continues to slip in terms of revenues, as in the quarter just ended it generated revenues of $9.9billion, down 3% from the previous quarter's $10.25 billion. The wireline's operating margins are on a continuous decline as well, and in 2Q2012, the operating income margin reduced significantly to 1.6% from 2Q2011's 3.1%.
However, as mentioned in our previous analysis on Verizon's wireless business, FiOS is proving to be its growth engine. Attractive features like no contract on its 'triple play plan', which offers telephone, internet and HD TV to its customers for a competitive price, are very popular and are putting the company's wireline business on track. FiOS performed well in the second quarter of the year, and currently more than 50% of the company's FiOS customers are on the triple play plan.
Looking at the stock performance over the last six months, it has appreciated by over 12%. However, we believe that it is fairly valued at the current levels. Moreover, the currently contracting wireline businesses for almost all major telecom carriers are likely to continue to weigh on their margins. Consistent rise in the use of smartphones, as well as various wireless products, will prove to be a negative catalyst for the company's own wireline business. However, FiOS triple play has done well and we believe it will drive the segment's profitability.
(click image to enlarge)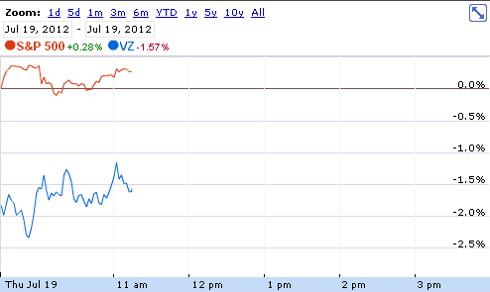 Since the company announced its quarterly results, the stock has dropped almost 2%. Moreover, Vodafone (NASDAQ:VOD), which owns 45% of Verizon Wireless, saw its shares drop 2% as well, as there was no discussion on dividend distributions in the conference call. Verizon has not announced its next dividend payout yet. The company currently has a very high payout ratio and an attractive dividend yield of 4.4%, which is declining.
This can be one of those situations where a company's share price tops after the earnings release. The hunt for yield made VZ a favorite among investors, and the bull market in VZ is probably over now.
In a previous analysis on various global telecom players, we identified France Telecom (FTE), China Mobile (NYSE:CHL), and Telefonica (NYSE:TEF) for their great growth potential, as well as dividend attractiveness. Dividend yields for the French, Chinese and Spanish telecoms are 13.1%, 3.6%, and 11% respectively, and all of them have modest payout ratios compared to AT&T (NYSE:T) and Verizon, which makes a strong case for further dividend growth for French, Chinese and Spanish telecoms. Even though we like Verizon's business and the current strength in numbers, we believe the stock is fairly priced and has limited upside potential.
Disclosure: I have no positions in any stocks mentioned, and no plans to initiate any positions within the next 72 hours.