Before the opening bell today, Philip Morris International (NYSE:PM) released operational results for its second quarter of fiscal year 2012. The former international arm of Altria (NYSE:MO), reported that revenue fell to $8.12 billion from $8.27 billion year over year, as declining volumes offset higher prices. The Street was expecting revenue of $8.0 billion, while my forecasts called for revenue of $7.97 billion. On the bottom line, PM reported that earnings fell slightly to $2.31 billion from $2.40 billion year over year. However, due to the nearly $6 billion of share repurchases made over the past year, earnings per share improved to $1.36 per share from $1.35 per share. Both the Street and I expected earnings of $1.35 per share.
Volumes were down in four of the five segments in which the Company operates, however, it did see pricing gains across the board. The weakness continues in Western Europe, with volumes falling 9.4% compared to the second quarter of 2011. The weak economy, austerity measures, and stricter smoking laws continue to pressure volumes.
Asia volumes declined 0.7%, as the segment was cycling extremely difficult comparisons from the second quarter of 2011. As a result of the earthquake and tsunami in March of 2011, PM was able to take market share from the world's third largest cigarette manufacturer, Japan Tobacco Inc., due to supply disruptions. In total, excluding acquisitions, organic volumes declined 1.2%. The following chart shows the volume change year over year by segment:
(click image to enlarge)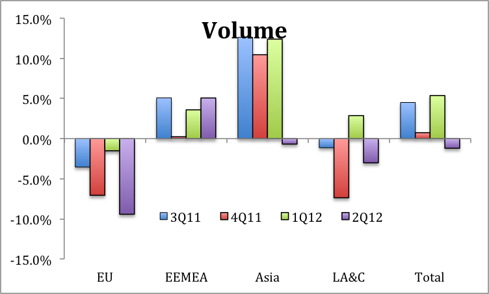 Chairman and CEO Louis Camilleri said, "Despite the anticipated Japan hurdle and currency headwinds, we had a solid second quarter, which underscored our sustained business momentum. Excluding the Japan hurdle, our year-to-date organic cigarette volume grew by an exceptional 3.3%. On the same basis, our currency neutral, reported and adjusted diluted earnings per share were up by a very robust 17.2% and 18.2%, respectively."
Management has been successfully cutting costs across the board, mainly through lower cost of goods sold and marketing, administration, and research costs. As a result, gross margin improved to 67.2% from 65.6% year over year, and marks the fourth straight quarter of improving gross margin year over year. Sequentially, gross margin stayed flat.
However, the segments saw a disconcerting trend form during the quarter, with four of the five segments seeing operating income declines compared to the second quarter of 2011. Only Eastern Europe, Middle East, and Africa (EEMEA) saw an operating income improvement. The strength in EEMEA was led by strong 8.7% shipment growth in Russia (new products). Shipment volume of PM's premium portfolio was up 12.5%. Asia was cycling difficult comparisons -- management referred to it as the Japan Hurdle. Additionally, volumes are accounting for the price increase over the past year, primarily in Korea. Market share in Japan fell (not surprising), but increased in China and Korea. The Latin America and Canada (LAC) segment experienced a lower total market primarily in Mexico. The following tables show revenue and operating income by segment.
| | | | |
| --- | --- | --- | --- |
| Revenue | 2Q12 | 2Q11 | % Change |
| EU | 2,285.0 | 2,497.0 | (8.5%) |
| EEMEA | 2,151.0 | 2,012.0 | 6.9% |
| Asia | 2,855.0 | 2,936.0 | (2.8%) |
| LA&C | 829.0 | 828.0 | 0.1% |
| Total | 8,120.0 | 8,273.0 | (1.8%) |
| | | | |
| --- | --- | --- | --- |
| Operating Income | 2Q12 | 2Q11 | % Change |
| EU | 1,117.0 | 1,280.0 | (12.7%) |
| EEMEA | 948.0 | 835.0 | 13.5% |
| Asia | 1,364.0 | 1,398.0 | (2.4%) |
| LA&C | 249.0 | 268.0 | (7.1%) |
| Total | 3,678.0 | 3,781.0 | (2.7%) |
Since being spun off from MO back in 2008, PM has spent an aggregate of $24.4 billion to repurchase 449.9 million shares at an average price of $54.21 per share, or 21.3% of the shares outstanding at the time of the spin-off in March 2008. During the second quarter, PM purchased 17.8 million shares for $1.5 billion and completed its $12 billion share repurchase authorization. However, there is another $18 billion plan set to begin on August 1, and it is expected to last three years.
Additionally, management reiterated its guidance for earnings between $5.10 and $5.20 per share. With 100% of the PM's revenues taken from overseas, exchange rates play a large role in profitability. As it stands, management expects foreign currency headwinds to be slightly above $0.25 per share.
It wasn't the best quarter I have ever seen from PM, but it was solid and did overcome many hurdles, namely the extremely difficult comparisons in the Asia segment. That being said, Europe took a big hit during the quarter after performing relatively well over the past four quarters, despite the economic hardships. Hopefully this is not the beginning of a trend. However, I am impressed with how well volume held up, considering the price increases that have been pushed through around the world. Volumes were relatively flat for the quarter; however, moving through the rest of the year, I expect Asia to see a strong rebound. Additionally, I expect another quarter of falling volumes for the Europe segment, but not as severe as the 9.4% decline during the second quarter.
Looking at the valuations for PM, most seem to be a bit on the expensive side. However, (and this is a big however) the growth rates in revenue and efficiency are enough to sustain such a high valuation. For example, PM's price to earnings ratio is 17.87, compared to the industry average of 5.72. With respect to revenue growth rates, sales of PM have increased 9.03% over the past twelve months, compared to the industry average of a 28.08% decline. PM has a PEG ratio (price to earnings of growth) of 1.75. However, a yellow flag for the Company is the 15.5% drop in operating cash flow.
Nonetheless, PM is still my favorite in the tobacco sector. With strong dividend growth and another $18 billion of share buybacks, and more than $15 billion in current assets, the Company has the financial flexibility to grow through expansion if the opportunity arises. The stock is near all-time highs; however, at this level it appears to be more of an income stock than a growth stock. As such, I do expect another dividend increase over the next three months.
Disclosure: I have no positions in any stocks mentioned, and no plans to initiate any positions within the next 72 hours.