In the first half of last year, it was easy to find bullish perspectives on Molycorp (MCP) and other rare earth miners (REMX). Here's a small sampling of very bullish articles on Molycorp from that timeframe:
Molycorp Looks Too Good to Pass Up, May 23, 2011
Molycorp: A True Value Play, May 18, 2011
Rare Earth Prices Still Rising, Molycorp is a Buy, May 3, 2011
Future Looks Bright for Molycorp, April 11, 2011
JP Morgan Raises Molycorp Target to $90 on Chinese Pricing, April 11, 2011
Molycorp: Sunshine on the Horizon, March 18, 2011
JP Morgan Upgrades Molycorp and Provides Long-Term Outlook, February 22, 2011
This was in spite of sky-high price-to-book and P/E multiples for the miner. While Molycorp had a lot going for it, all of that bullish optimism was based on a flawed premise. That premise was that rare earth prices, which had risen anywhere from 600% to 2000% over the prior 18 months, would continue to stay sky-high, or even continue to rise further, over a long-term horizon. It's hard to believe that so many investors could take this for granted, when rare earth prices always looked like a bubble.
The collapse of rare earth stocks goes to show the deep flaws with momentum-based investing and once again shows that, over the long-term, valuation is king. I bought deep out-of-the-money put options on MCP in April '11, and sold out of my last contracts in May and June of this year. I sold those positions not because I view Molycorp as being attractive at this point. Rather, the upside to holding the options was not great enough anymore to justify the risk. However, Molycorp is still not attractively valued in my view.
Molycorp's Outlook
Molycorp, along with its Australia competitor, Lynas (OTCPK:LYSCF), were ahead of the competition in 2011, and both continue to stay ahead today. No matter how you slice it, however, both companies are producing a commodity product that was in a huge bubble, driven largely by arbitrary policy decisions in China. Once more supply came online and speculators exited the market, it was always inevitable that prices would plunge back to more sustainable levels.
Over the past few quarters, we've seen how the cooling of the rare earth bubble can destroy Molycorp's bottom line. The chart below examines gross margins and operating margins for MCP over the past four quarters.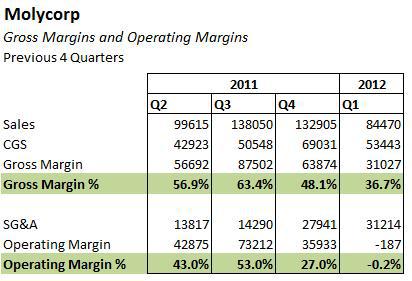 Notice that the fat operating margins of Q3 in 2011 (at 53%) have drifted slightly into negative territory for the most recent quarter (-0.2%). This is very problematic if this trends continue, as it's unclear how Molycorp could even earn its costs of capital without an improvement on this front.
Gross margins have also declined significantly; from 63.4%, all the way down to 36.7% in the extremely short time span of six months. Expect more downward pressure on gross margins over the coming years, as more supply enters the market.
The good news is that Molycorp will likely become more efficient on the operating front, and once it produces at a greater volume, it will have better economies of scale, but none of that can change pricing. Molycorp could be the best run company in the world and it wouldn't do much to help the pricing environment. Due to this, and the commoditized nature of the rare earths, Molycorp should probably sell at a slight premium to net tangible assets, at best; and possibly even at a small discount to that figure.
The chart below shows the calculation of Net Tangible Assets [NTAs]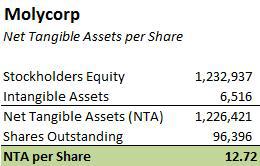 Then, here are valuations using multiples of NTA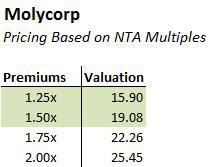 I view of premium of around 1.25x as the maximum one should pay with a moderate view on the future of rare earth element pricing over the next decade. That puts my max valuation for Molycorp around $15. If the pricing environment does not improve, even that might be a bit generous, and a valuation in the $10 - $14 range might be more adequate. Even in a best case scenario, with a bullish outlook, I would not consider paying more than a 1.5x premium, which would put the best case valuation around $19 - $20. Overall, this makes Molycorp look like a slightly poor than average investment considering the high risk profile and limited reward potential.
Conclusions
While Molycorp has not been run poorly and may indeed be a best-of-class operating in the rare earth industry, there's little evidence that this is the next Freeport McMoran (FCX) or BHP Billiton (BHP). So even with a more aggressive outlook on rare earths, a commodity producer without a strong, low-cost position shouldn't be selling for more than 1.5x net tangible assets (and maybe not even that high).
From the chart above, we can see that would put MCP at around $19. As I am writing this article, it sells for about a 2.5% premium over that at $19.50, making it somewhat overvalued in my view. Yet, it's not outside the realm of being reasonable at this point. For this reason, I think the risk / reward tradeoff from shorting or buying put options is not worthwhile any more.
That said, there's no particularly compelling reason to go long and the risk / reward trade-off is slightly unfavorable. Moreover, the conditions that lead to the dramatic rare earth bubble of 2010 and 2011 are probably not going to be repeated in the next few years, with so much supply coming online outside of China.
While I don't view Molycorp as an attractive short candidate anymore, I do think one of its competitors, Rare Earth Resources (REE) might be. Unlike MCP, which is now close to a fair valuation, I view REE as still being significantly overvalued.
Disclosure: Author holds put options on REE.
Disclosure: I have no positions in any stocks mentioned, and no plans to initiate any positions within the next 72 hours.
Additional disclosure: Author holds long-dated put options on REE.