The steel industry is not the only commodity industry facing a challenging time. The implications of recent data are indicating that numerous metal mining companies are going to be challenged over the coming years. Global demand growth is not nearly as robust as it was prior to the global recession, and unfortunately, investors can no longer rely on China/Asia to be the lone carrier of the baton on behalf of global growth. However, mining companies don't manage their enterprises in a vacuum. As a result of cost inflation and the capital intensity of new mining capacity, coupled with falling commodity prices, many companies will choose to slow down capital investments into new and existing projects. Like most commodity industries, mining is inextricably driven by the economic forces of supply and demand.
Although timing is uncertain, the implications of reduced capital spending on new/existing projects will shift the equilibrium between supply and demand such that supply, driven by reduced capital investment, will be tight relative to global demand most likely resulting in prices that will re-incentives new capital projects and growth in the mining sector once again. If investors are willing to look beyond the short run, as this scenario plays out, it will present ample opportunities for investors to do their homework and buy some great companies at very favorable valuations.
Mining Costs Rising
In the latest Metal's Magnifier research note by Barclays, published July 12th, the authors discuss the record high capital intensity and cost inflation eroding the incentive to invest in new mine supply. They provide the chart, shown below, to depict the rise in the recent cost of mining projects vs. the long run historical costs. As can be seen below, the required capital for new mining projects has increased dramatically over long term historical averages.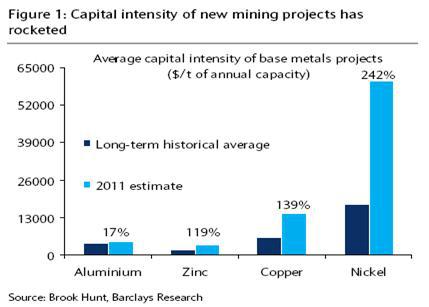 The authors note several drivers leading to the cost increases including:
1. EM currency appreciation vs. the USD.
2. Skilled labor shortfalls
3. Infrastructure costs
4. Challenging geography of new mine locations
5. Lower quality ore grades
And the list goes on….
The Direct Implications of Weakening Project Economics
As a result of weakening project economics global mining companies are planning to reduce capital investment and in some instances actually sell off non-core assets. On July 11th, the FT published an article titled "Global Miners Stage Retreat to the Core". The article argues that:
global mining groups, such as BHP Billiton (NYSE:BHP), Vale (NYSE:VALE), and Anglo American, are pruning their expansive portfolios, as calls from shareholders for greater focus and spending discipline prompt them to shed non-core assets.
The FT article points out in particular, that BHP is "reassessing its $20 billion a year spending plans…a process that could result in further sales." Additionally, because this increasingly difficult environment is impacting the entire industry space, it is challenging to find willing buyers to be on the other side of asset sales. "[Miners] have realized that having lower quality assets in their portfolio doesn't make sense." But as an industry advisor cited in the article notes, "It is difficult to get good prices right now." The FT goes on listing several potential asset/projects that companies including, BHP, VALE, AAL, Xtrata (XTA) and RIO TINTO (NYSE:RIO) are evaluating for sale.
In theory, the challenges facing the mining industry could be reversed if the global economy can find its footing, thereby staging a sustainable recovery across the world. At the fear of coming across as unduly skeptical, this is not likely to happen, given the complexity and magnitude of the issues facing the global economy. As such, shedding non-core assets is probably the first stage of events to transpire within the mining sector, which is to say, things will probably get worse before they get better.
Investment Implications & Outlook
The authors of the Barclays research make the compelling supposition that:
...it was the conservative long-term price assumptions held by the industry and the mining companies that contributed to miners' slow investment response to the large increase in emerging market demand in the 2000s, for instance. The assumption that over the long term prices will trade at marginal cost has perpetuated the use of too low a long-term price assumption since it fails to consider the need for return on capital and structural cost inflation. Both of these factors mean that long term prices for the mining industry during this cycle, in our view, need to trade above marginal costs if they are to incentivize producers to commit to the long-term hugely capital intensive nature of bringing on new supply.
The culmination of this information hints at the fact that the mining industry is susceptible to boom bust cycles largely because capital investing plans have empirically tended to focus on short term pricing--what some argue is overly conservative pricing. This is actually a good thing for investors, provided they are willing to look beyond the short term challenges to focus on the longer term opportunities. Eventually, the ramifications of slowing capital investments will take hold in the form of periods with tight supply relative to demand. Furthermore, at some point in the future, incremental global demand growth will be sufficiently higher than existing supply such that market prices will be re-incentivizes the industry to invest in new projects.
It is premature to make big investments in the mining sector. Based on the mounting bearish evidence, investors will be well-served by devoting considerable time to researching mining companies while valuations become more favorable. On an industry bases the metals/mining industry ETF (NYSEARCA:XME) FY P/E ratio of 13.61 vs. the current P/E ratio of 12.38 is indicative of analyst expectations for earnings to decline approximately 9% in aggregate. Over the next several quarters, possibly as much as a few years, as market participants over-react to bearish news, I believe there will be opportunities to pick up mining companies at valuations that are historically low. But, I believe it is worth the time waiting for those valuations before making the bulk of one's investment in this sector. While low valuations don't always equate to good buying opportunities, I believe low valuations in the mining sector will result in favorable buying opportunities because of the medium/long term implications of declining capital investment in new supply. Eventually, the equilibrium will shift favorably for the miners and investors who purchased miners at historically low valuations will be rewarded when that shift occurs.
Disclosure: I have no positions in any stocks mentioned, and no plans to initiate any positions within the next 72 hours.